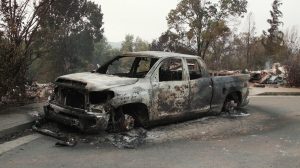 Los Angeles, Jul 27 (EFE).- Three people are dead as a result of the 17 active wildfires raging across California, authorities in the Golden State said Friday.

The Carr Fire, in the northern part of the state, has claimed the lives of a fire inspector and a bulldozer operator who were part of the effort to bring the blaze under control.

More than 17,800 hectares (43,950 acres) have been consumed by the Carr Fire, which has also destroyed 65 structures and damaged 55 others.

The blaze remains far from under control and poses a threat to Redding, a city of more than 90,000 residents 240km (150mi) north of California's capital, Sacramento.

The Ferguson Fire, which broke out two weeks ago and forced the closure of parts of Yosemite National Park, is 29 percent controlled, CalFire said Friday.

More than 3,800 personnel are involved in the battle against the Ferguson Fire, with aerial support from 16 helicopters.

Authorities in southeastern California's Riverside County announced Friday the arrest of a man accused of starting the Cranston Fire, which has destroyed 4,700 hectares.

Brandon McGlover, 32, faces 15 criminal charges and is being held on $1 million bail, the county prosecutor's office said.