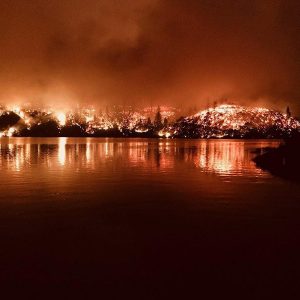 Washington, Jul 28 (EFE).- US President Donald Trump declared Saturday a state of emergency in California and ordered the federal government to provide additional assistance due to the wildfires that since July 23 have devastated the region and forced authorities to evacuate close to 38,000 people.

By means of this order, Trump authorized the Department of Homeland Security (DHS) and the Federal Emergency Management Agency (FEMA) to coordinate disaster relief efforts, the White House said in a statement.

"This action will help alleviate the hardship and suffering that the emergency may inflict on the local population, and provide appropriate assistance for required emergency measures to save lives and to protect property and public health and safety, and to lessen or avert the threat of a catastrophe in the counties of Los Angeles, Riverside, San Diego, Santa Barbara, and Ventura," the White House said.

Firefighters have been unable to halt the spread of a northern California wildfire that has already destroyed 32,700 hectares (some 82,000 acres) and has killed at least two people.

According to figures provided Saturday by CalFire, the state's forestry and forest fire protection department, the Carr fire has only been brought 5 percent under control.

The fire began last Monday in Shasta County, whose main city, Redding, lies some 350 km (220 miles) north of San Francisco.
Authorities said that about 38,000 people have had to be evacuated from the region as a precaution.

The flames have destroyed 500 buildings and damaged another 75.

In addition, at least two people – one firefighter and a bulldozer operator – have died in the area battling the blaze.

More than 3,400 emergency services workers are currently trying to put out the Carr fire.

It is expected that high temperatures will continue in the coming days in the area, where dry conditions and high winds have fostered the rapid spread of several blazes.

Given the seriousness of the situation, California Gov. Jerry Brown last Thursday declared a state of emergency in Shasta County.

Meanwhile, the Ferguson Fire, which broke out two weeks ago and forced the closure of parts of Yosemite National Park, is 29 percent controlled, CalFire said Friday.

More than 3,800 personnel are involved in the battle against the Ferguson Fire, with aerial support from 16 helicopters.
Authorities in southeastern California's Riverside County announced Friday the arrest of a man accused of starting the Cranston Fire, which has destroyed 4,700 hectares.

Brandon McGlover, 32, faces 15 criminal charges and is being held on $1 million bail, the county prosecutor's office said.