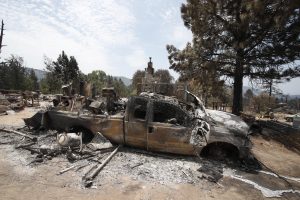 Los Angeles, Jul 29 (EFE).- The first that has ravaged a large swath of northern California, causing five deaths and forcing the evacuation of some 38,000 people, remains out of control amid weather conditions making the work of firefighters trying to quell the blaze extremely difficult.

"The weather today is a factor that is really influencing the behavior of the fire and the ability to control it," Cheryl Buliavac, a spokesperson for California's forestry and forest fire prevention department (CalFire), told EFE.

According to the National Weather Service, a dangerous heatwave continues to move over the southwestern US and California and is accompanied by high temperatures, dry climate and winds that foster the rapid spread of fires.

The so-called Carr fire in Shasta County has taken the lives of five people – including 70-year-old Melody Bledsoe and two of her grandchildren, ages 4 and 5, who all died in the family home on Saturday.

Earlier, authorities had reported the deaths of bulldozer operator Don Ray Smith and firefighter Jeremy Stoke, both of whom lost their lives battling the blaze some 350 kilometers (217 miles) north of San Francisco.

According to CalFire, so far 517 structures (both homes and other buildings) have been destroyed in the blaze and another 135 damaged.

The fire broke out on July 23 due to "mechanical failure" of a vehicle – presumably an engine fire.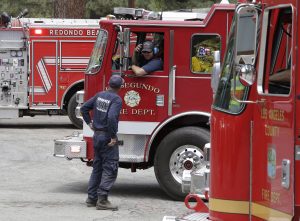 More than 36,000 hectares (90,000 acres) have been burned in the Carr fire, which is being battled by some 3,400 firefighters using 334 firetrucks and other vehicles, but they have only brought it 5 percent under control, according to Buliavac.

More than 5,000 homes are under threat by the fire, according to local authorities.

Some 18 wildfires are raging in California at present, while the neighboring state of Oregon is battling the Thomas fire, the largest in that state's recent history, which has burned more than 121,000 hectares (300,000 acres).

Other fires that are raging across California at present include the Ferguson fire in Mariposa County near Yosemite National Park and the Cranston fire near the town of Idyllwild in southern Riverside County.
Authorities in Riverside County announced Friday the arrest of a man accused of starting the Cranston Fire, which has destroyed 4,700 hectares.

Brandon McGlover, 32, faces 15 criminal charges and is being held on $1 million bail, the county prosecutor's office said.
President Donald Trump on Saturday declared a state of emergency in California and ordered the federal government to provide additional assistance, authorizing the Department of Homeland Security (DHS) and the Federal Emergency Management Agency (FEMA) to coordinate disaster relief efforts, the White House said in a statement.