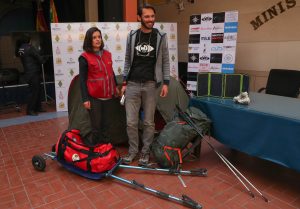 La Paz, Jul 30 (EFE).- Albar Tessier, a blind teacher from France, on Monday spoke to reporters about the obstacles he had to surmount during his 140-kilometer (87-mile) journey on foot across Bolivia's Uyuni Salt Flats.

In a press conference at the Ministry of Culture and Tourism, Tessier recounted his week-long excursion traversing the world's largest salt desert, which he described as "wonderful" and which helped him prove that people can "overcome their limits."

The Frenchman said that he prepared for three years to accomplish the task, during which time he studied the geography of the place and consulted with others who had also undertaken the feat.

He also showed attendees the equipment he used to help him along the way, including a tent, a small kart and a few walking sticks.

"The journey was quite good," he said. "There were some difficulties during the first three days."

One of most complicated moments came on the second night of the trip, when one of the tent's brailing pegs came undone, which forced him to hold it himself, compelling him to remain outside until 4 am.

"When the wind died down a bit, I was able to get some rest, but it was short-lived, as it started to snow," he added.

Tessier was sponsored by a French association that provides assistance to the blind, as well as by the Bolivian tourism agency Alma Turismo.

The Ministry of Culture and Tourism handled the conditions to ensure his safety and health during the adventure.