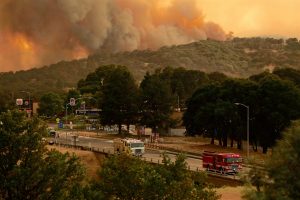 Los Angeles, Jul 30 (EFE).- At least eight people have died in the 17 wildfires that are blazing in California, the most serious ones near Yosemite National Park, which remains partially closed to the public, authorities said Monday.

A total of more than 93,000 hectares (233,000 acres) have been destroyed by the fires.

The Carr fire – in Shasta County, some 400 kilometers (250 miles) north of San Francisco – began a week ago near the town of Redding and has been the most deadly of the blazes with six fatalities, including a 70-year-old grandmother and two of her grandchildren.

That fire has forced authorities to evacuate more than 38,000 people and has destroyed 723 residential structures but is only 20 percent contained at present, according to figures provided by California's forestry and forest fire prevention department, CalFire, to EFE.

CalFire also said that seven people are missing in the Carr fire, with CalFire spokesman Chris Anthony telling NBC that the fires are "explosive" and the situation is beyond "extreme."
Shasta County Sheriff Tom Bosenko said that one victim of the fire had ignored official notifications regarding the need for local residents to evacuate the zone.

Two other people were found dead near the Ferguson fire, which is 30 percent contained, one of them a firefighter who died after being hit by a falling tree in Mariposa County, where his contingent of firefighters were working to quell the blaze.

The US National Weather Service said that excessive heat combined with low relative humidity and dry vegetation were setting up ideal conditions for the numerous fires.

Currently, there are 17 active – albeit isolated – wildfires in California, ranging from blazes in the southern part of the state all the way to the northern border with Oregon, CalFire spokesman Jonathan Cox told the Los Angeles Times.

Some 12,000 firefighters are battling the flames around California, along with 800 members of the California National Guard, backed up by hundreds of fire trucks, some of which have come from as far away as Florida.

Mendocino County is the site of two other uncontrolled fires that have burned more than 12,000 hectares (30,000 acres) and forced hundreds of residents to evacuate.

California Gov. Jerry Brown has declared a state of emergency for Riverside, Shasta and Mariposa Counties and on Saturday, President Donald Trump signed an emergency declaration for the state, thus enabling the federal government to provide additional aid