April 26, 1995
By Yolanda Reynolds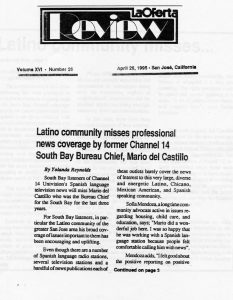 South Bay listeners of Channel 14 Univision's Spanish language television news will miss Mario del Castillo who was the Bureau Chief for the South Bay for the last three years.
For-South Bay listeners, in particular the Latino community of the greater San Jose area his broad coverage of issues important to them has been encouraging and uplifting.
Even though there are a number of Spanish language radio stations, several television stations and a handful of news publications each of these outlets barely cover the news of interest to this very large, diverse and energetic Latino, Chicano, Mexican American, and Spanish speaking community.
Sofia Mendoza a long-time community advocate active in issues regarding housing, child care, and education, says: "Mario did a wonderful job here. I was so happy that he was working with a Spanish language station because people felt comfortable calling him with news."
Mendoza adds, "I felt good about the positive reporting on positive news about our community — we don't get too much of that."
The manner in which the Latino community has been portrayed in the media has been an ongoing issue in the South Bay. Several years ago, many in the Latino community participated in an all-day hearing with the local daily newspaper which was held to document and discuss the unfavorable characterization and stereotyping with which Latinos have often been depicted in the paper. The hearing was organized by the County's Human Rights Commission after the large number of protests regarding an article about Latino/Chicano youth in San Jose.
This type of portrayal is particularly to the Community because many small stations and other media often follow the lead of the major daily for their news items.
Speakers at that memorable hearing were allowed 3 to 5 minutes to speak. Many spoke; from professionals, including lawyers, and teachers, to grade school children, mothers, fathers and even grandparents. The hearings lasted almost eight hours.
People offered many examples of bias and strongly objected to the perpetuation of stereotypes along with the frustrating neglect of neighborhood, community and individual stories involving courage, creativity, drive and determination.
In San Jose, there have been repeated examples of how communities and individuals are working to overcome huge obstacles that by design or neglect, exist. It is the coverage of such stories that made Mario del Castillo a favorite of many in the Community. He won their respect for his ability to relate their experience and news with genuine understanding and respect.
Sandy Perry, a San Josean and homeless advocate says, "if Mario is no longer there (at Channel 14) it shows a lack of concern for the community." He adds, "As far as we're concerned, Mario's coverage of the homeless issues has been one of the bright spots in the local media."
Some news people believe that any "reporter" can cover a community. Many listeners and readers of the media would disagree. They say it is important to understand the tradition and, more importantly, the history of whatever it is they are covering. The right questions must be asked and careful listening is a must. "A lot of people know Mario and respect him", says Sofia Mendoza.
This past August, del Castillo was honored for his news coverage of educational issues by the Eastside Union High school district officials and students. Superintendent Joe Coto says, "Mario (Channel 14) always responded when there were good things to report to the community. He was very adept at covering issues that needed to be conveyed to the school parents and the larger audience – that was why we honored Mario (Channel 14)."
Personnel decisions are often difficult or even impossible to understand but it is certain that many in the South Bay will be scanning the News Channels hoping to see Mario community news in either Spanish or English. © La Oferta Newspaper.