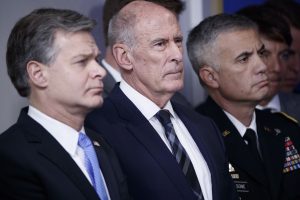 Washington, Aug 2 (EFE).- US National Intelligence Director Dan Coats warned Thursday of a "pervasive messaging campaign by Russia to try to weaken and divide the United States" in the run-up to – and during – the November mid-term elections.

"In regards to Russian involvement in the midterm elections, we continue to see a pervasive messaging campaign by Russia to try to weaken and divide the United States," said Coats at a White House press conference.
President Donald Trump has ordered US intelligence agencies to make the question of interference in the electoral process a priority and to guarantee its security, Coats said.

However, he said that so far Moscow has not mounted as robust an effort to influence the mid-terms as it did in 2016.
Coats appeared at the press conference accompanied by FBI Director Christopher Wray, Homeland Security Secretary Kirstjen Nielsen and White House National Security Adviser John Bolton.

Wray said that Russia remains involved in exerting a "malign influence" on US elections, adding that "This is a threat we need to take extremely seriously and tackle and respond to with fierce determination & focus."

"It's important to understand this is not just an election cycle threat. Our adversaries are trying to undermine our country on a persistent and regular basis, whether it's election season or not," he added.

Wray also noted that the social networks play a "very important" role in this type of interference and the firms that run them must monitor the content that is posted and disseminated there.

Critics have called on Trump to take more decisive action on the matter, which many deem critical to American democracy.

Bolton said that Trump is "leading unprecedented action to punish Russia" for its attempts to disrupt US elections, adding recently in a letter to Senate Democrats that the president "has not and will not tolerate interference in America's system of representative government."

The press conference comes after the recent Helsinki summit between Trump and Russian President Vladimir Putin, at which the US leader downplayed US intelligence agencies' assessment that Russia had indeed interfered in the 2016 elections, remarks that sparked outrage across the political spectrum, although Trump later backtracked and said that he had "full confidence" in the reports of those agencies.