Caracas, Aug 4 (EFE).- Venezuelan Information Minister Jorge Rodriguez on Saturday confirmed that President Nicolas Maduro was the target of an attack with "drone type flying devices containing an explosive charge", which occurred during a public event with the military in Caracas and that he was unharmed.

"Our president Nicolas Maduro is in perfect health, in perfect condition," Rodriguez said in a speech broadcast on state television VTV.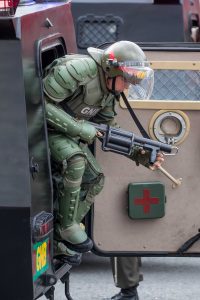 According to the official, several drones with explosive charges detonated in the vicinity of the stage where Maduro was giving a speech to celebrate the 81st anniversary of the Bolivarian National Guard (GNB), causing "some injuries" to seven soldiers.

This act "only shows the desperation that we have been noticing in some of the spokesmen of the Venezuelan ultra-right opposition, (…) who do not stop resorting to criminal practices," Rodriguez added.
The minister also said that Maduro will address the nation later this Saturday night to offer "more details on the case."

The attack occurred when Maduro, in a speech towards the end of the event, defended the latest economic measures of his government, which are rejected by the opposition.

The television broadcast showed the representatives of the military breaking ranks and how they evacuated the Minister of Defence, Vladimir Padrino.

On the stage next to Maduro, besides Padrino and the first lady, Cilia Flores, were representatives of all the public authorities of the country.

The attack was taking place in the midst of the severe economic crisis in Venezuela, the country with the largest confirmed oil reserves on the planet, which nevertheless suffers from a shortage of all types of products, hyperinflation and a very poor provision of public services.

For these reasons, dozens of protests are taking place daily in the country, demanding food, transportation, water, electricity and better wages, among other things.