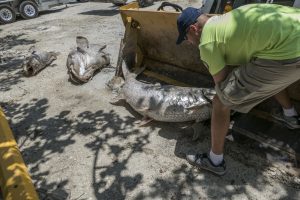 Miami, Aug 7 (EFE).– Florida environmental authorities on Tuesday ordered extraordinary measures in seven southwestern counties to accelerate the collection of thousands of fish killed by a red tide outbreak, as contamination by a toxic microalgae is known.

Eric Sutton, the director of the Florida Fish and Wildlife Conservation Commission (FWC), set forth in an executive order the procedures to be followed to speed up collecting the massive number of dead fish in the following counties: Collier, Lee, Charlotte, Sarasota, Manatee, Hillsborough and Pinellas.

In a communique, Sutton said that the FWC is working with local authorities in the most affected areas and is ready to provide assistance to local communities.

Thousands of fish and eels have turned up dead in recent weeks on southwest Florida beaches, a phenomenon that occurs almost every year in that region of the Gulf of Mexico but which has never risen to the current level.

Thousands of fish, hundreds of turtles and even a few manatees have washed up on beaches considered to be among the world's best for the quality of their white sand and azure seas.

The FWC also on Tuesday issued a call to the public not to remove any of the dead animals, leaving their collection to the experts.

The state environmental agency said that if sick fish or marine animals are found, people should contact the authorities because there are more than 30 biologists who are available to attend to emergencies of that kind.

One of the most frequent symptoms that bathers experience during the "Karenia brevis" red tide is respiratory irritation, which can include itching or stinging in the throat and coughing.