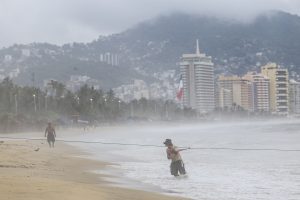 Mexico City, Aug 7 (EFE).- Hurricane John increased in intensity to a Category 2 storm on the Saffir-Simpson scale on Thursday after absorbing Tropical Storm Ileana, Mexico's National Weather System (SMN) reported.

"John, now a Category 2 hurricane, absorbed Ileana, as a circulation band, due to the binary Fujiwhara effect," said the SMN.
In its 10:15 am report, the SMN said that John is located 510 km (316 mi.) west-southwest of Cabo Corrientes, in Jalisco state, and 555 km (344 mi.) south of Cabo San Lucas, in Baja California Sur.

The storm is moving northwest at 15 kph (9 mph) and packing sustained winds of 165 kph (102 mph) with gusts of up to 205 kph (127 mph).

The storm, which formed on Sunday in the Pacific Ocean and became a hurricane on Monday, will continue to intensify, with the SMN predicting that it will become a Category 3 hurricane on Tuesday afternoon.

The states of Baja California Sur, Sinaloa, Nayarit, Jalisco, Colima and Michoacan will experience heavy rains of 50-75 mm (2-3 inches) as a result of John.

The SMN also said that wind gusts of up to 60 kph (37 mph) and waves of between 2-4 meters (6.5-13 feet) in height will be possible along the coasts of Baja California Sur, Sinaloa, Nayarit, Jalisco Colima and Michoacan.

Meanwhile, on Tuesday Tropical Storm Kristy formed in the Pacific, although it is presently far from the Mexican coast, located 1,860 km (1,153 mi.) west-southwest of Cabo San Lucas.

The SMN is advising the public – in particular boaters – to exercise caution in the abovementioned states due to the heavy rains, winds and high waves and to follow the recommendations of SMN and Civil Protection authorities.