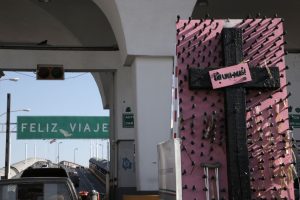 Ciudad Juarez, Mexico, Aug 6 (EFE).- This border metropolis that a decade ago was the world's most dangerous city will host this week the first of a nationwide series of forums where President-elect Andres Manuel Lopez Obrador will seek public input on how to curb violence in Mexico.

The "Listening Forums" will begin on Tuesday in Ciudad Juarez and the last one will be held on Oct. 24 in Mexico City.

"The idea of the forums is, from the public and the victims, to build a pacification plan," a member of the organizing committee, Eunice Rendon, told EFE.

The difference between these gatherings and previous efforts "is that they are being undertaken before forming a government," she said.

Rendon said that the symposia will allow the president-elect to obtain information and opinions from the community from which he and his team will later design public policy, and not "the reverse, where the policy is designed and later the people are asked about it."

Recovering social peace is one of the campaign promises of the leftist leader, who won the presidency in a landslide on July 1.

In 2017 alone, 31,174 murders were registered in Mexico for a homicide rate of 25 per 100,000 residents, the highest level in a decade.

Lopez Obrador has mentioned ideas such as decriminalizing drugs or granting amnesty to selected convicts.

"It's about having a broader pacification framework, which doesn't only include amnesty but also the commitment and involvement of everyone" to achieve reconciliation, Rendon added.

In Ciudad Juarez, the opening ceremony will be presided over by Lopez Obrador, the people he has designated for the main public order posts in his Cabinet, Olga Sanchez Cordero and Alfonso Durazo, and Chihuahua state Gov. Javier Corral.

With the slogan "With the victims in the center," after the event and a press conference, several parallel workshops will be held about repairing social damage, security and justice, as well as dynamic borders, among others.

Some 1,000 people have registered to participate, Rendon said, and it is expected that many more people will follow the workshops, given the enormous social and media interest they have generated to date.

Located just across the Rio Grande from El Paso, Texas, Ciudad Juarez is a nursery for many of the problems besetting Mexico.

Recently, there has been a resurgence in violence, and last weekend more than 30 people were killed, 11 of them in a single incident linked to a settling of scores among criminal groups.

Last year, Ciudad Juarez suffered 814 homicides, or 56 for every 100,000 residents.