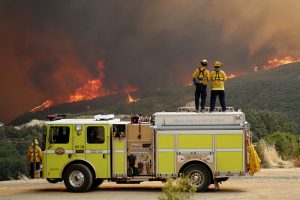 Washington DC, Aug 6 (EFE).- The Mendocino Complex fire on Monday became the largest wildfire in California's history after burning over 114,850 hectares (283,800 acres), according to authorities.

Data from Cal Fire, the California agency responsible for fire protection, showed the Mendocino Complex, which encompasses the Ranch and River fires, has surpassed the Thomas fire from last year.

In Dec. 2017, the Thomas fire burned 114,078 hectares and one fatality was recorded.

The Mendocino Complex, which has been raging in northern California since Jul. 27, has destroyed 143 structures including 75 residences and threatens another 11,300, but no fatalities have been recorded, according to the latest Caf Fire data released Monday night.

The fire is currently only 30 percent contained.

Currently, there are 18 wildfires raging in California, which have burned a total of 230,000 hectares.

The Carr fire, near the city of Redding, has claimed the lives of seven people and destroyed over 1,000 homes.