Caracas, Aug 7 (EFE).- The Venezuelan government on Tuesday released several videos as evidence of the Aug. 4 assassination attempt on the Venezuelan president, and according to which the attackers were offered $50 million.
"They were offered $50 million and residency in the United States," say the videos broadcast on the state radio and television network during a statement by President Nicolas Maduro.

According to the Venezuelan government, the perpetrators of the attack "received training in drone control and explosives in a farm called Atalanta," in Chinacota municipality, in the Colombian Department of Norte de Santander, "from April to the end of June of 2018."

Maduro said that the "terrorists" called themselves "group number 2, group bravo" within their communications and received orders to fly two drones with explosives to make an attempt on his life as well as that of the political and military leaders accompanying him on the stage that day during a public event.

He also explained that the drones were covered with shrapnel and sought to take the lives "of all the authorities present on the stage" during the 81st anniversary celebration of the Bolivarian National Guard (GNB, militarized police).

The government pointed out several individuals as "possible intellectual authors" such as Rayder Alexander Russo Marquez, "alias Pico, protected in Colombia," and Osman Alexis Delgado, "financial supporter residing in the United States."

The Venezuelan Prosecutor's Office notified this week that it had identified "all the material authors" of the attack, and the government on Tuesday revealed the identities of five of the perpetrators.

Among them are the retired sergeant of the GNB, Juan Carlos Monasterios, Yanina Pernia, Alberto Bracho, Argenis Valero Ruiz and Brayan Oropeza, the last two of whom are believed to control the drones.

The Venezuelan leader showed the photographs of two individuals identified as Yilber Alberto Escalona and Gregorio Jose Yaguas, saying that they are "bombers" and urging citizens to provide any information that could lead to their captures.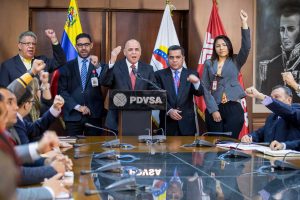 Maduro also pointed to the retired Colonel Oswaldo Valentin Garcia as the "chief of the assassins" who planned to kill him on Aug. 4.

"He's trying to recruit soldiers and involve them in his criminal adventures … (he) works directly with the outgoing government of (Colombian President) Juan Manuel Santos," he said.

The Venezuelan president also mentioned an immigration official named Mauricio Jimenez Pinzon who was in charge of facilitating free passage between Venezuela and Colombia to those involved.

The president said that some of those involved were arrested in flagrante delicto – caught red-handed – and that others rented a property for seven months in Caracas to carry out this plan. He also added that all of them were also implicated in the violent attacks during the 2014 and 2017 anti-government protests.

"I am sure they will get the toughest (?) sentence. They all are part of (violent) group Guarimberos, participants in political organizations of the Venezuelan right," he added.