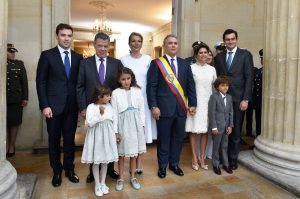 Bogota, Aug 7 (EFE).- Attorney Ivan Duque on Tuesday took the oath of office as Colombia's president for the next four years in a ceremony held on the Plaza de Bolivar in central Bogota.

"I swear by God and before the Colombian people to defend the Constitution and the laws of Colombia," said Duque as part of the oath administered to him by the head of the Senate, Ernesto Macias, who subsequently bestowed on him the presidential sash with the colors of the national flag.

Duque, 42, succeeds two-term President Juan Manuel Santos, in office since Aug. 7, 2010.

Following Duque's inauguration, he then administered the oath of office to his vice president, Marta Lucia Ramirez, the first women in Colombia's history to take that office, whom he then congratulated with an embrace and whom the crowd honored with hearty applause.

The inauguration ceremony was attended by about 4,000 invited guests, including 10 Latin American heads of state and representatives from another 17 countries around the world, including the speaker of Spain's lower house of Parliament, Ana Pastor.

Duque said in his inauguration speech that he wants – through dialogue – to overcome the ideological divisions and the social fragmentation that exist among his countrymen.

"I want to govern Colombia with unshakeable values and principles, overcoming the divisions of left and right, overcoming with public dialogue the brusque sentiments that invite social fragmentation. I want to govern Colombia with the spirit of building, never destroying," he said.

The country's ideological polarization was evident in the recent election in which Duque, with the rightist Democratic Center, triumphed with more than 10 million votes over leftist Gustavo Petro, who received the support of eight million voters in one of the most inflammatory campaigns in the country's history.

The new president promised that the victims of Colombia's decades-long armed conflict will not be attacked anew by impunity for their aggressors.

He added that the "structural failures" that have become evident in the implementation of the November 2016 peace pact with the Revolutionary Armed Forces of Colombia (FARC) rebels will be corrected to guarantee to the victims of the violence "truth, proportional justice, reparations and no repetition" of the crimes.

The new head of state also devoted a portion of his remarks to the guerrillas who laid down their arms as per the pact they signed with Santos.

"I believe in the demobilization, disarmament and the reinsertion (into society) of the guerrilla base," Duque said.