Guatemala City, Aug 8 (EFE).- Guatemala's Fuego volcano, which erupted on Jun. 3 causing the death of at least 165 people, recorded a strong explosion accompanied by avalanches around the crater on Wednesday, the National Institute for Seismology, Vulcanology, Meteorology and Hydrology said in a special bulletin.

The explosion took place around 9.20 pm and was the first strong volcanic activity in the last six weeks, it said.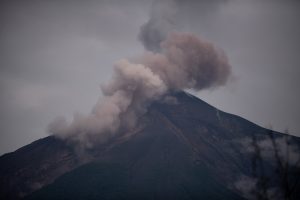 The explosion was accompanied by rumblings and shock waves as the volcano ejected "abundant incandescent material" to a height of 4,800 meters (15,748 feet) and blew out a column of ash that moved 12 kilometers (7.5 miles) westward.
"This explosion is the first strong one to be recorded in the last six weeks and may be the beginning of another phase of activity," the institute warned.

The spokesperson of the National Coordinator for Disaster Reduction, David De Leon, explained that as a result of the activity, one could hear "rumblings" and urged the surrounding communities to remain vigilant.

The 3,763-meter-high volcano is located around 50 km west of the Guatemalan capital, between the departments of Escuintla, Chimaltenango and Sacatepequez.

The last eruption in June was one of the biggest in its history and caused 165 deaths, left 260 missing and almost two million people affected.