New York, Aug 8 (EFE).- Republican Congressman Chris Collins of New York was indicted Wednesday morning for insider trading in shares of an Australian biotechnology company, police said.

Collins and his son Cameron, along with Stephen Zarsky, the father of the latter's fiancee, are implicated in the use of privileged information regarding the shares of Innate Immunotherapeutics ("Innate").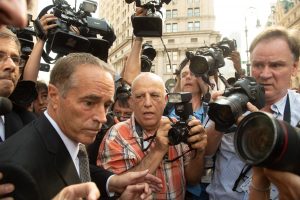 The Republican politician was serving on Innate's board when the firm's key drug failed a testing trial, resulting in millions of dollars in losses to Collins, but – according to federal prosecutors – before the news became public he illegally gave word to other people, including Cameron, so that they could dump their shares and avoid losing some $768,000.

The federal prosecutor for the Southern District of New York, Geoffrey Berman, said in a communique on Wednesday that in the coming hours he will announce the charges against Collins at a press conference.

All the suspects could be accused of securities fraud, wire fraud, conspiracy to commit wire fraud and making false statements to the FBI.

The congressman's activities at the firm are being investigated by the Ethics Office of Congress, Politico reported.
Collins was the first congressman to throw his support behind Donald Trump in 2016 during his presidential campaign, the magazine said.

Politico also reported that the lawmaker's attorneys said that they would respond in court to the charges against their client and mount a strong defense to clear his "good name."