Washington, Aug 11 (EFE).- The man who allegedly sought to commit suicide by crashing a plane he stole in Seattle, rejected help from air traffic controllers to land the aircraft because he had "played some videogames before" and thought he knew how to fly, according to a recording released Saturday.

The 29-year-old man died Friday night after stealing and crashing a plane belonging to Horizon Air, an Alaska Airlines subsidiary, where he worked.

The man stole an empty 76-seat plane at Seattle-Tacoma International Airport, and took off without authorization.

Soon afterward, the North American Aerospace Defense Command launched two F-15 fighter jets to pursue the stolen aircraft, which crashed on Ketron Island, between Tacoma and Olympia, after performing air stunts.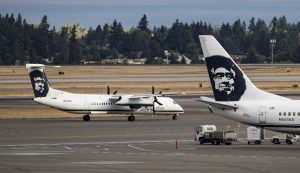 While he was performing the air stunts, air traffic controllers attempted to help the man land the plane and asked him to stay away from populated areas.
In the recordings released Saturday by local media, tense exchanges are heard between controllers and the man, whose identity is yet unknown.

At one moment of the conversation, controllers offered the man help to land the plane, to which he answered "I don't need that much help. I've played some video games before."

The man also expressed concern regarding the amount of fuel he had left and about the possibility of spending time in jail.

At another moment of the conversation, the man described himself as a "broken guy," adding that he did not want to disappoint his friends and relatives.

"I've got a lot of people that care about me, and it's going to disappoint them to hear that I did this. I would like to apologize to each and every one of them. Just a broken guy, got a few screws loose, I guess. Never really knew it until now," the man said.

Soon after the crash, the Pierce County Sheriff's Department said that preliminary investigations suggested the 29-year-old man was suicidal, a hypothesis that was later confirmed by the FBI.

While the incident was taking place, no planes were allowed to take off from Seattle-Tacoma, which is ranked the ninth busiest airport in the United States, serving 46.9 million passengers in 2017.