La Paz, Aug 12 (EFE).- Bolivian chefs drew inspiration from "Frankenstein" to create an assortment of snacks and drinks representing selected passages of Mary Shelley's Victorian horror classic novel, which turned 200 this year.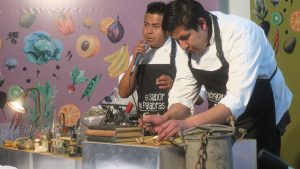 "The book represents rejection and how society creates monsters in many cases," chef Miguel Carreño told EFE on Saturday.
"That's a bit of what we are trying to reflect."

The chefs participated Sunday in the event "El sabor de las palabras" (The Taste of Words), which is part of the La Paz International Book Fair, in an effort to interpret literature through gastronomy.

The event is organized by the Bolivian Gastronomic Integration Movement (MIGA) in collaboration with the country's Departmental Book Council.

The first snack presented features a slice of bread topped with an Andean yam bean foam with a side of candied carrots, lettuce and fresh mushrooms served on top of a bone, signifying "life and death," Carreño said.

The second appetizer was inspired on the main character's "loneliness," represented by an empty chocolate hull with a bit of chili on top.

"Loneliness is sometimes covered by something sweet, something nice, but it is hollow on the inside, which we believe reflects the sentiment (portrayed) in the book," chef Rodrigo Lazarte, who is associated with the Manq'a high cuisine schools, said.

Alfredo Arias also contributed with two alcoholic cocktails based on the literary classic.