By Lina Broydo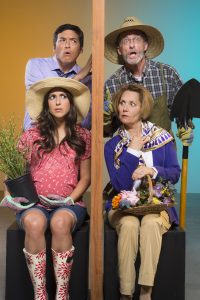 Native Gardens Bloom in Mountain View
August 22 through September 16
TheatreWorks Silicon Valley presents Native Gardens – the hottest new comedy by National Latino Playwriting Award-winner Karen Zacarías and directed by Amy Gonzales are ready to entertain you at the beautiful Mountain View Center for the Performing Arts.
When an up-and-coming Latino couple purchases a home in a sought-after neighborhood beside the prize-winning garden of a prominent family, tensions and conflicts spiral into territorial saga and suddenly the well-intentioned neighbors become eco-adversaries or expressed in simple English: enemies.
Did you ever have a neighbor you can't stand? Not you, I am sure. But In Native Gardens, the line is crossed, with war waged over flora and fauna. Enjoy this cutting edge play exposing much more than their horticultural preferences–they expose notions of class, culture and privilege.
But don't forget that this is a comedy and we need a bit (or a lot) of laughter in our present lives. Developed in The Old Globe's Powers New Voices Festival, Native Gardens received its world premiere in 2016 at Cincinnati Playhouse in the Park, starring Tony Award winner Karen Ziemba.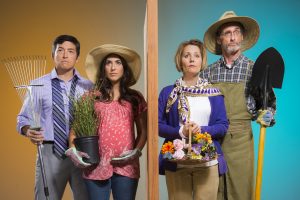 Since its world premiere, Native Gardens has gone on to play in many of the nation's leading regional theatres including The Guthrie Theater, Arena Stage, Victory Gardens, The Old Globe, Denver Center for the Performing Arts, and Trinity Repertory Company. Critics have hailed the comedy as "a fun and furious battle of the neighbors" (Denver Post), "Perceptive. Hopeful.
A true breath of comic fresh air!" (DC Theatre Scene), and lauded its "sharp, witty writing, lots of laughs, a sense of currency and immediacy." (Minnesota Post). Let me hear what you think about this play.
Tickets and Information 
Prices range from $40 to $100
(650) 463-1960.
TheatreWorks.org
Mountain View Center for the Performing Arts
500 Castro Street in Mountain View
Photos courtesy of TheatreWorks Silicon Valley 
The Magnificent Yuja Wang is Back in Town Performing with San Francisco Symphony and Maestro Michael Tilson Thomas. 
September 13 – 16
Music Director Michael Tilson Thomas leads the San Francisco Symphony with the spectacularly gifted pianist Yuja Wang playing Ravel's Piano Concerto for the Left Hand. September 13–16 concerts mark the 9th time Wang has performed with Michael Tilson Thomas and the San Francisco Symphony since 2009, including two tours through Asia and Europe with the Orchestra.The concert's repertoire also features Copland's Appalachian Spring and Castiglioni's Inverno in-ver.
These concerts are affiliate events of the 2018 Global Climate Action Summit, and include special performances by vocalist Abigail Washburn accompanied by visuals from the
COAL + ICE project: a documentary photo exhibition that visually narrates the complex consequences that are triggered by the use of fossil fuels. Vocalist Abigail Washburn joins the San Francisco Symphony in interpretation of songs reminiscent of Depression-era Appalachia, accompanied by projected images from COAL+ICE that follow the trajectory of climate change from the earth's coal mines to its vanishing glaciers.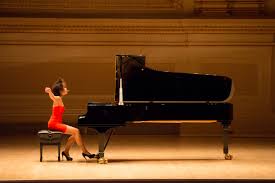 Pre-concert panel discussion addressing climate change is moderated by Tom Corwin, Festival Creative Director of COAL + ICE. These are definitely concerts not to be missed!!!
Get ready to be awed not only by Wang's virtuoso performance but also by her unique and stunningly gorgeous high couture outfits. Stop by the box office to pick up your tickets for the September 5th San Francisco Symphony Opening Gala with Maestro Michael Tilson Thomas and the San Francisco Symphony with soloist Itzhak Perlman!
Tickets and Information
Prices range from $32 to $169
415-864-6000
sfsymphony.org
Davies Symphony Hall
Van Ness Avenue at Grove Street in San Francisco
Photos courtesy of SF Symphony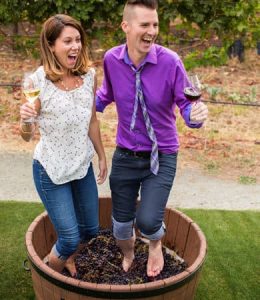 It's a Crash Time in the Wine Country
Begins on August 24
Rejoice! Its time for fun in the wine country. The freshly packed grapes are ready for stomping!  The Grape Stomping Experience is seasonal. An now is the time! Learn more about the 2018 Grape Stomping Schedule and all of the upcoming events in one of the Napa Valley's oldest Grgich Winery.
You are invited to jump in a barrel of freshly picked grapes and stomp away just like Miljenko "Mike" Grgich did as a child in Croatia before he immigrated to California. You'll create a unique keepsake by putting your grape-stained feet on a white "I stomped at Grgich Hills" t-shirt. All guests 21+ will also enjoy a tasting of three of our estate wines.
You are welcome to extend your experience with a wine tasting in our tasting room. Do not worry about your lovely pedicure – the burgundy wine color is now in style.
Tickets and Information 
(707) 963-2784
info@grgich.com
Grgich Hills Estate
1829 St. Helena Hwy in Rutherford, Napa Valley
Photo courtesy of Grgich Winery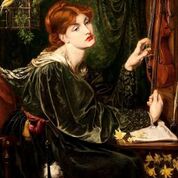 Truth & Beauty Revealed at Legion of Honor Museum in San Francisco 
Through September 30
An exhibition juxtaposing examples by the Pre-Raphaelites Brotherhood with works that inspired its members, including Italian Old Masters Fra Angelico and Pietro Perugino and their Northern contemporaries Jan van Eyck and Hans Memling are featured in the "Truth & Beauty: The Pre-Raphaelites and Old Masters" current exhibit on view at the Legion of Honor, one of my favorite museums in the Bay Area located in the picturesque setting of the Golden Gate Park.
It is influenced by the high and great late Renaissance masters such as Botticelli, Raphael, Titan and Veronese. It is the first exhibition to display the juxtaposing examples of the Pre-Raphaelites art. It also offers a rich multimedia opportunity to examine the artists' attraction to stained glass, domestic decorations and 16th-century textiles.
The paintings are on loan from major global collectors. Do not rush, allocate an entire lovely afternoon to spend in the most artistic and inspirational environment of this beautiful museum and its surroundings. Listen to a free organ concert on the weekends.
Tickets and Information
Price: $28
415-750-3600
www.legionofhonor.famsf.org
100 34th Avenue in San Francisco
Photo courtesy of Legion of Honor Museum