Miami, Aug 16 (EFE).- Subtropical Storm Ernesto continued heading Thursday into the open waters of the Atlantic Ocean, the National Hurricane Center (NHC) said.
The system is about 945 kilometers (585 miles) east-southeast of Cape Race, Newfoundland, the NHC said in its 1500 GMT public advisory.
Ernesto, which has maximum sustained winds of 75 kph (45 mph), is moving at 26 kph (16 mph).
"A significantly faster northeastward motion is expected during the next couple of days," forecasters at the Miami-based NHC said.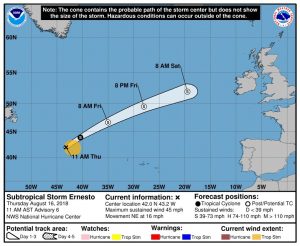 The storm is expected to become a subtropical system over the next 24 hours and to merge on Saturday with a front located near Ireland and Britain.
On Aug. 19, US experts predicted an Atlantic hurricane season 60 percent below normal, compared to the forecast for a season 25 percent below normal last May, with the formation of 4-7 hurricanes and 9-13 tropical storms.
The new prediction, as revised by the National Oceanographic and Atmospheric Administration (NOAA), is for five Atlantic hurricanes – instead of seven – with just one attaining the most destructive level (as opposed to the earlier prediction of three).
So far during this Atlantic hurricane season, four tropical storms have formed, of which Beryl and Chris developed into Category 1 and Category 2 hurricanes, respectively.
The reason for the downward revision of the number of projected storms was given in a report by Philip J. Klotzbach, the project's research chief, who cited the fact that tropical Atlantic waters are cooler than normal and there exists a relatively high potential for development of a weak El Niño weather phenomenon in coming months.