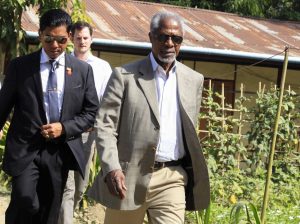 Washington DC/Havana, Aug 18 (EFE).- The United States secretary of state on Saturday called former UN Secretary General Kofi Annan, who passed away earlier in the day at the age of 80, a life-long defender of peace and human dignity.
"Mr. Annan spent his life advocating for peace and human dignity during his long career at the United Nations," Mike Pompeo said in a statement.

"Even after leaving his post as Secretary-General he embodied the mission of the United Nations, by sowing the seeds of peace as Chair of The Elders, an independent group of global leaders committed to advancing the cause of peace and promoting human rights around the world," he added.

Tributes to the former UN chief, a Nobel Peace Prize laureate, also poured in from Cuba with President Miguel Diaz-Canel describing Annan as a "symbol of persistence and dignity" in a condolence message addressed to current UN chief Antonio Guterres.

With Annan's death, "the international community loses one of its most prominent diplomats, a symbol of persistence and dignity because of his origin and his work," the message said, Cuba's state television reported.

Kofi Annan served as the UN secretary-general from 1997-2006 and received the Nobel Peace Prize along with the UN in 2001.
He passed away in a hospital in Switzerland on Saturday after a short illness, his family announced on Twitter.