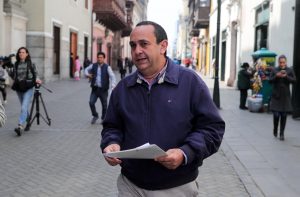 Lima, Aug 20 (EFE).- The Venezuelan Union in Peru on Monday handed a letter to the Peruvian government seeking exceptions to a forthcoming requirement that people entering Peru from Venezuela have passports.

In the letter addressed to Foreign Minister Nestor Popolizio, the group requested that children, the elderly, pregnant women and chronically ill people who do not have a passport be allowed to enter the country for "strictly humanitarian reasons."

The document goes on to say that the union "understands the various motivations that took the interior minister to adopt such restrictive measures in terms of migratory control," referring to the recent announcement that Peru will request a passport from Venezuelans entering Peru as of Aug. 25.

The interior minister said that the measure is a "technical issue" aimed at "ensuring the safety" of both Peruvian and Venezuelan citizens.

The letter, signed by Oscar Perez, president of the Venezuelan Union, dismissed that the measures taken by the Interior Ministry have "hostile or xenophobic" intentions, as the Peruvian state has "always showed (the Venezuelan people) affection and solidarity through resounding, never-before-seen decisions."

The restriction announced by the Vizcarra administration comes just a few days after the country's National Police warned that more than a dozen members of a gang of bank robbers have entered the country from Venezuela.

On Aug. 5, police arrested four suspects, including one who confessed to killing six people in Venezuela.

Immigration authorities say that 80 percent of Venezuelans entering the country carry a passport.

Last Saturday, Peru registered a record number of immigrants crossing the border, reaching as many as 5,100 Venezuelans in a single day.