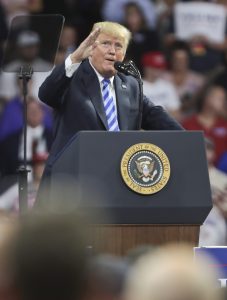 Washington DC, Aug 21 (EFE).- The President of the United States on Tuesday avoided making any reference to his former campaign manager Paul Manafort and former lawyer Michael Cohen during his campaign rally in West Virginia, hours after they both were found guilty in two different trials.

Although Donald Trump made some brief statements on the matter shortly before arriving at the event, he avoided mentioning the issue in front of his constituents.

"I feel very badly for Paul Manafort," Trump told reporters upon arriving in West Virginia.

"It does not involve me, but I still feel, you know, that it's a very sad thing that happened," said Trump, adding that "this has nothing to do with Russian collusion."

Manafort was found guilty on eight counts of financial fraud while Cohen, in another trial, pleaded guilty to eight felony counts, including two counts of violation of the federal campaign finance law, linked to the president's election campaign.

Given the complex implications that the guilt of the two may have for the president himself, especially regarding the Russian collusion, Trump avoided making any reference to the issue and focused on campaigning for Patrick Morrisey, the Republican Senate candidate for West Virginia.

However, the president briefly mentioned the investigation led by special prosecutor Robert Mueller into Moscow's meddling in the 2016 presidential election, and labeled it as a "witch hunt."

"Where is the collusion?" Trump asked rhetorically. "You know, they're still looking for collusion, where's the collusion, find some collusion," the president reiterated.

However, much of his speech was aimed at underscoring his role in the White House and urging voters to support the Republican Party for the Senate this fall to continue "making America great again."

Trump chose to campaign in the heart of the country's coal-mining industry, one of his main electoral strongholds, on the same day his Environmental Protection Agency (EPA) proposed new rules that allow states to adopt less stringent regulations on old fossil-fuel power plants.