By Lina Broydo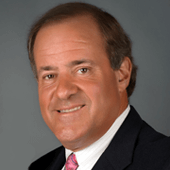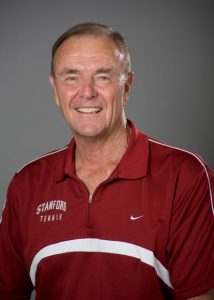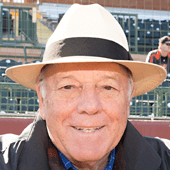 2018 Jewish Sports Hall of Fame Gala Dinner & Induction Ceremony
September 16 at 6 p.m.
Join me in saluting and paying tribute to the very best sports personalities in the Bay Area.
This year's inductees include: Dick Gould – The Legendary Tennis Coach of Stanford Men's Tennis and the Bay Area Sports Hall of Fame inductee; Chris Berman – Celebrated, award-winning sportscaster and fan favorite for nearly 40 years; Matt Levine – World-class former Executive Vice President of Marketing & Broadcasting for the San Jose Sharks (1990 – 2000); Marty Lurie – Veteran sportscaster currently on the air during the SF Giants season on KNBR 680 radio; Mike Silver – Super prolific sportswriter and television analyst for NFL Network and NFL.com.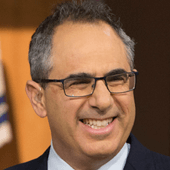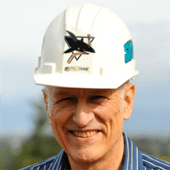 You actually do not have to be Jewish to be inducted into this prestigious Jewish Sports Hall of Fame, being a "Mensch" – an Yiddish means  "person of integrity and honor" as well as a phenomenal sports champion is an important criteria.
Along with these outstanding sports representatives, the organization also inducts high school student-athletes who are awarded scholarships on the basis of their athletic, academic and community service. See you there!
Tickets and Information
Price: $250 and up
415-584-6864
Four Season Hotel
757 Market Street in San Francisco
Photos courtesy of JSHOFNC.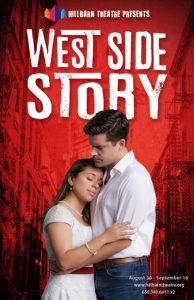 West Side Story Unfolds in Foster City
August 30 through September 16
Hillbarn Theatre, the Peninsula's premiere theatre company opens its 2018-19 season with the most spectacular musical production of the West Side Story.  The saga of two young idealistic lovers who are caught between warring street gangs and their struggle to survive in a world of hate, violence and prejudice is one of the most heart-wrenching and relevant musical dramas of our time.
With a book by Arthur Laurents, music by Leonard Bernstein, and lyrics by Stephen Sondheim, West Side Story features some of Broadway's most iconic songs, including "Something Coming," "Maria," "America," "Somewhere," "Tonight," "I Feel Pretty," and "One Hand, One Heart." The original 1957 Broadway production ran for 732 performances and was nominated for six Tony Awards including Best Musical, winning for Best Choreography and Best Scenic Design.
The 1961 musical film, directed by Robert Wise and Jerome Robbins, won ten Academy Awards including Best Picture. Under the direction of Erica Wyman Abrahamson, West Side Story features (in alphabetical order) Rachelle Abbey, Jeffrey Brian Adams, Armand Akbari, Richard Ames, Luke Arnold, Christine Baker, Shawn Bender, David Blackburn, Danielle Cheiken, Angela Curotto-Pierson, Jorge Diaz, Josiah Frampton, Jose Gallentes, Tucker Gold, Tyler Harding, Marty Lee Jones, Allie Lev, Ana Paula Malagón, Katie Maupin, Carlos Nunez, Fiona O'Neill, Danielle Philapil, Catherine Rieflin, Neil Rushnock, James Schott, Jack Swartz, Catherine Traceski, Victor Valasquez, Breanna Van Gastel, and Zanna Wei.
Enjoy the show and its most talented performers who may in the not too distant future win the Tonys, Emmys and the Oscars Awards. Remember you saw them here first!
Tickets and Information 
Prices range from $35–$52
650.349.6411 ext. 2
hillbarntheatre.org
Hillbarn Theatre 
1285 East Hillsdale Blvd.in Foster City
Photo courtesy of Hillbarn Theatre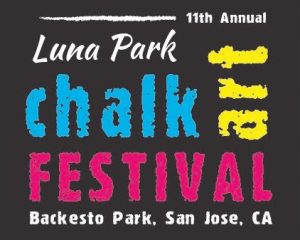 Luna Park Chalk Art Festival in San Jose
September 15, from 10 a.m. to 5 p.m.
Calling on all chalk art admirers, amateur and professional artists and fun loving families! (Eureka! your favorite pooches are allowed to join you as well)  as the Luna Park Chalk Art Festival celebrates its 11th anniversary.
The festival attracts over 3,000 artists, students, vendors, and community members for a colorful day in San José's Backesto Park.
Artists, students and chalk enthusiasts create over 250 pieces of diverse art throughout the park's pathways, including original works, classical recreations, traditional Italian madonarri street painting, 3D realistic works, cartoons, modern abstractions, and much more. In addition to the artwork, the festival features a main stage of local musicians, dancers and performers, as well as local food trucks and vendor booths.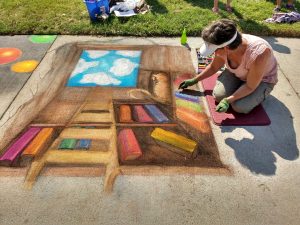 The Luna Park Chalk Art Festival and Luna Park Arts Foundation are 100% volunteer run and it benefits K-12 arts programs in local schools. I just hope they will leave enough chalk for the school teachers as the new school year about to start.
Tickets and Information 
Free Admission
Backesto Park
551 N 13th Street in San Jose
Photos courtesy of LPCAF
The Face on the Barroom Floor Shines in San Jose
Friday, August 24 and Saturday, August 25 at 7:30pm.
Sunday, August 26 at 2pm
Take a nostalgic trip without leaving the Bay Area as San Jose Chamber Orchestra and Guggenheim Entertainment present The Face on the Barroom Floor (a one-act opera) which will take viewers on a historical, musical, and poetic journey in celebration of Henry Mollicone (a long-time San Jose resident) and the 40th Anniversary of his opera, The Face on the Barroom Floor, audiences will enjoy a live performance of the opera followed by clips from  "The Face on the Barroom Floor: The Poem, the Place, the Opera", a film directed by Rhode Island-based filmmaker Lawrence Kraman, written by David Patrick Stearns, and edited by an impressive young filmmaker, Dillon Poole, Other songs which Mr.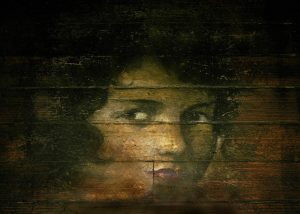 Mollicone has written throughout his illustrious career will be performed during the celebration. Well we definitely have more than just chips and technology too offer in the heart of Silicon Valley – This is truly a local original masterpiece.
Tickets and Information
Prices range from $40 – $50
408-404-7711
3Belowtheaters.com
3Below Theaters & Lounge
288 So. Second Street in San Jose,
Photos courtesy of The Face on the Barroom Floor