Washington, Aug 25 (EFE).- John McCain, a US senator, presidential candidate and former prisoner of war, died on Saturday at the age of 81.

He died at 4.28pm surrounded by his wife Cindy and their family, according to a statement from his office, just a day after his family announced McCain had decided to discontinue treatment for an aggressive form of brain cancer.

"My heart is broken. I am so lucky to have lived the adventure of loving this incredible man for 38 years. He passed the way he lived, on his own terms, surrounded by the people he loved, in the place he loved best," his wife Cindy tweeted.

His daughter Meghan McCain also released an emotional statement saying, "I was with my father at his end, as he was with me at my beginning."

"The days and years to come will not be the same without my dad – but they will be good days, filled with life and love, because of the example he lived for us," she added.

McCain died four days before what would have been his 82nd birthday, and a day after his family announced that the veteran legislator had "opted to discontinue medical treatment" for the tumor he was diagnosed with last year.

In announcing the news of stopping the treatment on Friday, the family said that "John has surpassed expectations for his survival. But the progress of disease and the inexorable advance of age render their verdict."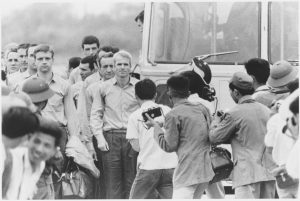 Former president and Democrat Barack Obama, who beat Republican McCain to win the US presidency in 2008, released a statement Saturday.

"John McCain and I were members of different generations, came from completely different backgrounds, and competed at the highest level of politics. But we shared, for all our differences, a fidelity to something higher – the ideals for which generations of Americans and immigrants alike have fought, marched, and sacrificed."

"Few of us have been tested the way John once was, or required to show the kind of courage that he did. But all of us can aspire to the courage to put the greater good above our own. At John's best, he showed us what that means," he added.

Fellow Republican and US President Donald Trump tweeted, "My deepest sympathies and respect go out to the family of Senator John McCain. Our hearts and prayers are with you!"

McCain had been outspoken against fellow Republican Trump. In July he called the Helsinki press conference following the president's meeting with Russian leader Vladimir Putin "one of the most disgraceful performances by an American president in memory."

He also opposed Trump's first attempt at a Muslim travel ban and was pivotal to the failure of two attempts to repeal Obama's healthcare legislation.

During his military career, McCain was a fighter pilot in the Vietnam War. In 1967 he was shot down over the country and captured, becoming a prisoner of war for five years.