Washington, Aug 26 (EFE).- The tributes for the late Republican senator, and former presidential candidate, John McCain continued to pour in on Sunday from around the country, while President Donald Trump continued to stand by his short initial Twitter reaction to the death from brain cancer of the Arizona lawmaker, one of his political enemies.

The news of McCain's death dominated the front pages of US dailies and sparked hundreds of public reactions and messages around the country and the world, while his family moved ahead with preparations for funeral services that will take place in the coming days.

"The nation mourns the loss of a great American patriot, a statesman who put his country first and enriched this institution through many years of service. The Senate is keeping Cindy, the McCain family, all John's friends and staff, and the people of Arizona in our prayers at this tremendously difficult time," said Senate Majority Leader Mitch McConnell in a statement.

The leaders of both parties in Congress announced that McCain will lie in state next Friday in the Capitol Rotunda, an honor reserved for the country's most prominent citizens and which has only been accorded to 12 other senators since the practice was begun in 1852.

He will be buried next Sunday, Sept. 2, at the Naval Academy in Annapolis, Maryland.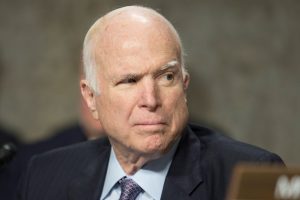 Senate Minority Leader Chuck Schumer proposed placing McCain's name on one of the Senate buildings in Washington.

McCain will also lie in state on Wednesday – the day he would have turned 82, had he not succumbed to cancer on Saturday – in the state capital in Phoenix, Arizona Gov. Doug Ducey said in a tweet, and a memorial Mass will be celebrated for him in Phoenix on Thursday.

The Washington funeral service will take place at the National Cathedral and it is expected that former Presidents Barack Obama and George W. Bush will both give eulogies there.

Both Obama and Bush defeated McCain in presidential contests – the first in the 2008 general election and the second in the Republican primaries in 2000, but they also forged relationships of deep respect with the veteran pol and ex-Navy captain, whom they generously praised in statements on Saturday.

Those presidential relationships stand in contrast to the tense relationship McCain had with Trump, and the senator's family – according to press reports – has requested that the current president not attend his funeral, although they did invite Vice President Mike Pence.

Trump and McCain have been at odds since in 2015 during the presidential campaign the mogul criticized the senator for being captured after being shot down over North Vietnam and held as a POW for 5 1/2 years, during which time he was grievously wounded, beaten and tortured.

Since Trump has been president, McCain, meanwhile, has criticized his foreign policy and used his vote to derail a Trump-supported plan to eliminate ObamaCare, not to mention publicly warning about the president's "egoism" and apparent affinity for "autocrats."

Trump has limited his public commentary on McCain's death to a single tweet, in which he said "My deepest sympathies and respect go out to the family of Senator John McCain. Our hearts and prayers are with you!"

On Friday, McCain's family announced that the senator had decided to end his cancer treatment and he died the next day.
Late on Saturday, White House Press Secretary Sarah Huckabee Sanders announced that the US flag at the presidential residence would fly at half-staff, but Trump made no further comment on the matter, tweeting twice on Sunday about the good condition of the US economy before devoting his day to playing golf.