San Antonio, Aug 27 (EFE).- Argentine guard Manu Ginobili announced his retirement from basketball Monday after playing 16 seasons with the NBA's San Antonio Spurs in the course of a 23-year professional career.

Ginobili, 41, became the best Argentine player in history, landing four NBA championships with the Spurs and a gold medal at the 2004 Olympic Games in Athens with the Argentine national team.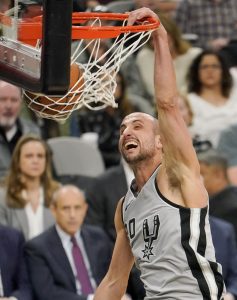 After forming a historic trio with French point guard Tony Parker, who left the Spurs this summer to sign on with the Charlotte Hornets, and power forward Tim Duncan, successfully directed by coach Gregg Popovich, Ginobili became identified with the San Antonio team's winning ways.

"Today, with a wide range of feelings, I'm announcing my retirement from basketball. IMMENSE GRATITUDE to everyone (family, friends, teammates, coaches, staff, fans) involved in my life in the last 23 years. It's been a fabulous journey. Way beyond my wildest dreams," Ginobili wrote on his Twitter account.

The Spurs and Popovich wanted Ginobili to stay on to complete the last year of his contract, but the two-time NBA All Star had already said that only if he felt some inner need to remain active would he do it.
Ginobili's brilliance on the court allowed him to be the only player under Popovich's direction that the legendary coach let take his own decisions and not necessarily do what he was told to do.

His dealings with reporters were always refined, very polite and respectful, always ready to give a last statement, whatever physical shape he was in after a tough game.

Ginobili, who entered the NBA in 2002, leaves with 1,057 regular-season games played, in which he established an average of 13.3 points, 2.5 assists and 2.2 rebounds per game.
His best season was in 2008 when he had a per-game average of 19.5 points, 4.8 rebounds and 4.5 assists.

Ginobili had 218 playoff games with an average of 14.0 points, 4.0 rebounds and 3.8 assists.