Detroit, Aug 28 (EFE).- Thousands turned up at Detroit's Charles H. Wright Wright Museum of African American History on Tuesday to pay their last respects to Aretha Franklin, who died Aug. 16 at the age of 76.

The earthly remains of the "Queen of Soul" will lie in state for two days for Detroiters and people from all over the country to pay tribute to the singer, who lived in the Motor City for more than seven decades.

As per her family's wishes, the body of the artist lies in an open casket, clad in a long red dress and wearing earrings and high-heeled shoes.
Despite the intense heat and humidity, people stood patiently in line for their turn to bid farewell to Franklin.

The daughter of Rev. C.L. Franklin, one of the country's most prominent black preacher in the 1940s and '50s, Aretha was raised in a musical home marked by the constant interaction with civil rights figures, such as Martin Luther King Jr.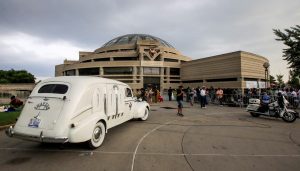 Aretha Franklin's funeral will take place Friday at Greater Grace Temple, the same Detroit church where the final obsequies for legendary activist Rosa Parks here held.

Franklin's family announced that former US President Bill Clinton will be speaking at the ceremony, as well as 19 artists, including Stevie Wonder, Faith Hill and Chaka Khan.

The legendary artist will be buried next to her father and other members of her family at Woodlawn Cemetery in Detroit.