Washington, Aug 28 (EFE).- The Pentagon repeated Tuesday that the presence of US troops in Afghanistan will not last much longer, but stressed the importance of their deployment in the region to avoid further attacks on the United States like those on Sept. 11, 2001.

"We are there in order to ensure that America's security – and just think back to 9/11 and this building – that America's security is not threatened out of that location" again, Defense Secretary James Mattis said in an unusual press conference at the Pentagon.

The head of the Defense Department was joined in his appearance before the media by the chairman of the Joint Chiefs of Staff, Gen. Joseph Dunford, who also noted that the presence of US troops in Afghanistan is not an enduring commitment.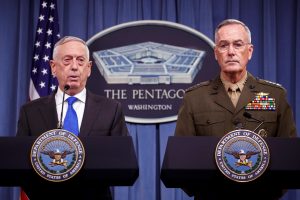 "I certainly don't expect that the current forces that we have in Afghanistan represents an enduring large military commitment," Dunford said, adding that he did expect Washington's long-term commitment to the Asian nation to continue in the form of "a permanent diplomatic mission."

Mattis, in any case, maintained that when the US government reviewed its strategy for the region in August of last year, he was aware that to achieve that objective would take time.

At the beginning of this year, US President Donald Trump announced his intention to remove US troops from Afghanistan soon.

The defense secretary, who noted the importance of the fact that in recent months there have two cease-fires between the Taliban and the local government, expressed his optimism about reaching a political solution to the conflict.

Mattis, however, linked the definitive departure of US troops from countries like Afghanistan, Syria and Iraq to their compliance with two conditions: first, the Islamic state must be destroyed, and secondly, the training of local troops.
In the case of Syria he added a third step – that the negotiating process in Geneva start showing positive results.