Santiago, Aug 30 (EFE).- Chile's opposition Socialist Party (PS) on Thursday commemorated the International Day of the Disappeared with a ceremony in Santiago at which party members paid homage to the victims of the 1973-1990 Augusto Pinochet dictatorship.

Socialist leaders and activists participated in the tribute, which placed emphasis on the women who were detained and subsequently "disappeared" during the military regime.

The PS headquarters, in downtown Santiago, was adorned with the portraits of 40 women, activists of various leftist parties, who were arrested and later killed while in the hands of the military.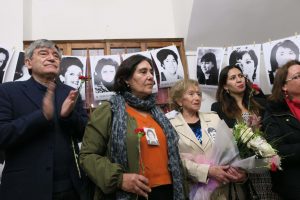 The tribute also included the placing of a floral offering at a memorial where the names of all the Socialist activists who died during Pinochet's dictatorship were inscribed.

"We in the PS want to revive the memory so that, once and for all, truth and justice may be done for all in our country, given that we know that we are still in debt," said Karina Delfino, the vice president of the PS Women.

She emphasized that there are still "pacts of silence" that must be broken to achieve a full reconciliation, and she rejected the Chilean right's playing down of the dictatorship by speaking of the "context" that led to the Sept. 11, 1973, coup that brought Pinochet to power.

"It was a sad history that occurred in Chile and we cannot deny it. There are no contexts, there are no set-ups, it's part of our history. It pains us but we also want to be reconciled among ourselves and for that we need truth and justice," Delfino said.

Mireya Garcia, a socialist activist and former director of the Association of Relatives of Disappeared Detainees, noted that the International Day of the Disappeared was established by the United Nations at the request of a federation representing the relatives of victims throughout Latin America.

She criticized the decision of certain Supreme Court justices to grant provisional release to agents of the dictatorship who were convicted of crimes against humanity and said she backed the constitutional accusation presented last week by a group of opposition lawmakers against those magistrates.

After Chile recovered its democracy in 1990, the Rettig Commission verified that about 3,200 Chileans died at the hands of the dictatorship, of whom 1,192 were detainees who were disappeared while in custody.