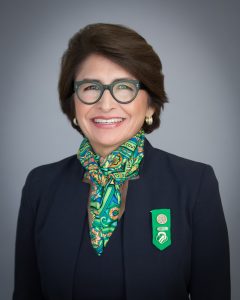 Los Angeles, Sep 3 (EFE).- Sylvia Acevedo, an aerospace engineer, entrepreneur and now CEO of the Girl Scouts, said in an interview with EFE that she believed in the importance of not giving up even when the answer was "no" and that was the message of her new book.

"Path to the Stars: My Journey from Girl Scout to Rocket Scientist" tells the story of a girl whose dreams came true because she worked hard and developed the tools needed to reach her goals.

As one of the first Hispanic women to earn a master's degree in engineering at Stanford University and one of the first to work as a researcher at NASA, among other achievements, Acevedo said her book provided a great opportunity to motivate others to visualize their dreams and believe in themselves.

"I want to tell everyone that, like me, you can also do it, you have opportunities. You must define what you want to do and determine the steps you'll take to make it," Acevedo told EFE.

In her case, Acevedo said, her goal from the age of 9 was to study at one of the best universities in the United States, and a teacher told her about Stanford.

"She told me, 'you can go, you're smart, you can do it,' and that's what I wanted, and that changed my life," Acevedo, the daughter of a Mexican-American father and a Mexican mother, said.