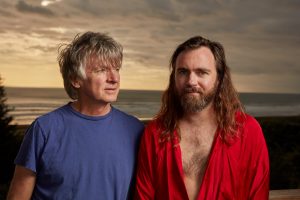 Los Angeles, Sep 2 (EFE).- The frontman of legendary '80s pop band Crowded House, Neil Finn, and his son, Liam, have released a new album together, adding a milestone to a long history of music in the family.

"Lightsleeper," released on Aug. 24, is the first collaborative album by the father and son duo, which brings a nostalgic blend of melodic pop and acoustic rock.

"It must be part of our DNA, but we also grew up with a lot of instruments around and kids are drawn to these things, making noise and all that," LiamFinn said in an interview with EFE.

"I grew up watching my father making music and people seemed to love it," Finn said. "It seemed to have brought a lot of joy, it looked fun. I thought, Why wouldn't I want to do that?"

Neil Finn, who, at 60, still has the exquisite melodic touch that took Crowded House to the top in the 1980s, told EFE that music has always run in the family.

"My father was an accountant, but he loved dancing," he said. "So, a dancing accountant. And my mother brought up four children and played piano, so I guess music was there from the beginning."

There is not enough time to go over all the exploits shared by the Fins in their music career, but suffice it to say that Neil and his brother Finn were founding members of Crowded House and Split Enz before going on to form the duo Finn Brothers.

Neil also teamed up with his wife, Sharon, to form Pajama Club, and their sons, Liam and Elroy Finn, have also had solo music careers.

Given the extensive history of music in the Finn household, it is not surprising that, at the end of the interview in the mellow hillside enclave of Los Feliz in Los Angeles, Buddy Finn – Liam's young son – showed his innate ear for the trumpet.