Miami, Sep 3 (EFE).- Tropical Storm Gordon, which took shape over the Florida Cays, has spread across Florida with rainfall and gusty winds, the National Hurricane Center (NHC) said Monday.

As of 9:00 pm GMT, the storm is traveling at 28 kph (17.4 mph) and is expected to grow stronger with the possibility of becoming a hurricane within the next 36 hours, when it hits land along the central Gulf coast.

The eye of the tropical storm was located some 85 kilometers (53 miles) west-southwest of Mt. Myers, Florida and 715 km (444 mi) southeast of the mouth of the Mississippi River.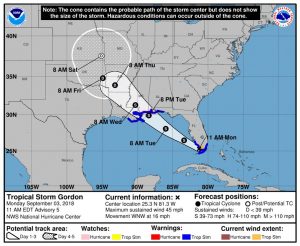 A tropical storm warning remains in effect for Shell Beach, Louisiana, to Dauphin Island and Navarre Island, Florida.

The warning covers the Mississippi and Alabama coast, from the mouth of the Pearl River to the Florida-Alabama border, the NHC said in its second report Monday, which was later extended to cover the area from Chokoloskee to Bonita Beach, as well the mouth of the Pearl River to the west and Morgan City Louisiana to the east, including lakes Pontchartrain and Maurepas.

Tropical Storm Florence, on the other hand, continues moving west across the Atlantic and is expected to move slightly toward the west-northwest.

Florence is currently over the Cabo Verde Islands in Africa and is expected to weaken by early Wednesday.