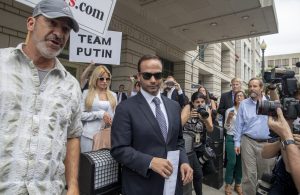 Washington, Sep 7 (EFE).- George Papadopoulos, an adviser to Donald Trump's 2016 presidential campaign, became on Friday the first former member of the real estate mogul's campaign team to be sentenced as part of the probe on Russian election meddling.

Papadopoulos was sentenced in a federal court in Washington to 14 days behind bars for having lied to the FBI, as well as to a year on parole, a $9,500 fine, and 200 hours of community service.

The former adviser agreed in October 2017 to cooperate with Special Counsel Robert Mueller, who is heading the investigation into alleged Russian meddling in the 2016 election and possible collusion between the Kremlin and the Trump campaign.

Papadopoulos admitted to having lied to the FBI in January 2017 regarding a conversation he had in April 2016 with a professor reputed to have connections with the Kremlin.

In that conversation, which took place when Papadopoulos was a foreign policy adviser for the Trump campaign, the professor promised to hand him emails containing damaging information about then-candidate Hillary Clinton.

Papadopoulos' sentencing comes 17 days after former Trump campaign chair Paul Manafort was found guilty of fraud charges brought by Mueller's team, though the offenses in question had nothing to do with the election.

It also follows the decision by Trump's former personal attorney, Michael Cohen, to plead guilty to campaign finance violations connected with hush-money payments to women who claimed to have had affairs with the billionaire.