Bogota, Sep 8 (EFE).- Colombian President Ivan Duque said Saturday that there will be no peace talks with the National Liberation Army (ELN) in Havana until that guerrilla force frees all its hostages.

"Until it meets the condition of releasing all its captives, we are not going to designate anyone to sit at that table and come to any kind of an understanding," Duque said from the Amaga municipality in Antioquia province.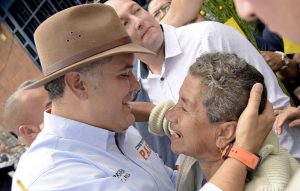 During the "Country-Building Workshop," during which national government representatives listened to the needs of the community, the president hailed the fact that "in recent days, several people have returned to their homes" and that "in the coming hours more will do so," a reference to a group of hostages that will apparently be released this weekend.
Nonetheless, he said "we need a convincing sign to the Colombian people and only the freeing of all those prisoners will be sufficient."

Duque said "if that condition is met and we may consider the insurgency's criminal activities over," the government is "ready to resume the talks but only with a clear agenda and timetable."

The decision not to immediately renew talks with the ELN is "constructive, patriotic and in line with the observance of the Constitution and the law," Duque said, adding that "it's important for citizens to understand that the ELN can't talk about peace while they use violence as a mechanism to put pressure on the government and Colombian society."

Last year in Quito the ELN entered into peace talks with the government of then-President Juan Manuel Santos.

Last May the dialogue was moved to Havana, but when Duque took office as president last Aug. 7, he said the process could only continue if the guerrilla group stops kidnapping and releases everyone it holds captive.

Last Sept. 5 the ELN freed three soldiers it was holding hostage in eastern Colombia and handed them over to a humanitarian commission.