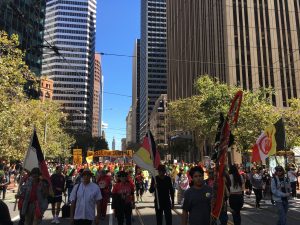 San Francisco, Sep 8 (EFE).- Thousands of people marched in the streets of San Francisco on Saturday to demand "real leadership" in the fight against climate change, four days ahead of the Global Climate Action Summit taking place in the city.
The "Rise for Climate, Jobs and Justice" march is part of a global day of action that includes demonstrations in dozens of cities throughout the world.

"We need real leadership in the fight against climate change and the current administration in Washington is failing. That is why people are out on the street," Analisa Freitas, campaign manager for one of the groups that organized the march, told EFE.

"Everybody is marching: environmental groups, unions, women's organizations, Latino organizations. This march is absolutely intersectional because climate change is a threat to absolutely everyone," Freitas, who is part of the Peoples Climate Movement, said.

The march was organized to take place ahead of the Sept. 12-14 Global Climate Action Summit in San Francisco, in which political, social and business leaders from around the world will meet to discuss international commitments to fight climate change.

Some of the world-renowned celebrities, activists and leaders who are expected to attend the summit include actors Harrison Ford and Alec Baldwin, musician Rocky Dawuni, former US Vice President Al Gore, former US Secretary of State John Kerry, and conservationist Jane Goodall.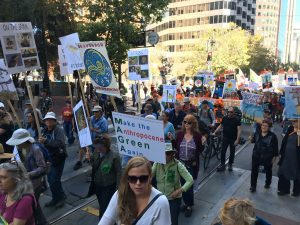 Many representatives from the Spanish-speaking world will also attend the summit, including the EU Commissioner for Energy and Climate Action Miguel Arias Cañete, the Mexican Secretary of the Environment and Natural Resources Rafael Pacchiano, and activist Dolores Huerta.

The ministers of the environment of Peru and Costa Rica, Fabiola Muñoz and Carlos Manuel Rodriguez, as well as Puerto Rico governor Ricardo Rossello, are also expected to attend the meeting.
Una marcha multitudinaria precede la cumbre por el clima en San Francisco
San Francisco, 8 sep (EFEUSA).- Una marcha multitudinaria recorrió hoy las calles del centro de San Francisco para pedir un "liderazgo real" en la lucha contra el cambio climático, cuatro días antes de que dé comienzo en la ciudad la Cumbre Mundial de Acción Climática.

Bajo el lema "Rise for Climate, Jobs and Justice" (Levántate por el clima, los empleos y la justicia), la movilización se produjo en el marco de una jornada de acción mundial con protestas en diferentes ciudades del planeta.

"Necesitamos liderazgo en la lucha contra el cambio climático y la actual Administración en Washington nos está fallando. Por eso la gente está saliendo a la calle", explicó a Efe Analisa Freitas, coordinadora de campaña de Gente por el Movimiento Climático, una de las plataformas impulsoras de la movilización.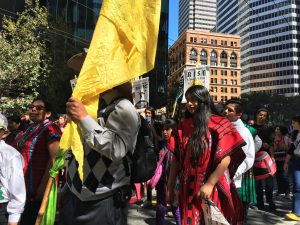 "Aquí está todo el mundo: grupos de presión medioambientales, sindicatos, asociaciones de madres, organizaciones latinas? es una marcha absolutamente transversal porque el cambio climático es una amenaza absolutamente para todo el mundo", apuntó Freitas.

La llamada a esta protesta global se produce días antes de que se celebre en San Francisco la Cumbre Mundial de Acción Climática, que transcurrirá del 12 al 14 de septiembre, y en la que participarán líderes políticos, sociales y empresariales de todo el planeta.

La cumbre contará con la presencia de personalidades relevantes a nivel internacional como los actores Harrison Ford y Alec Baldwin, el músico Rocky Dawuni, el exvicepresidente de EE.UU. Al Gore, el ex secretario de Estado John Kerry, y la conservacionista Jane Goodall.

En cuanto a la representación del mundo hispanohablante, en la cumbre participarán el comisario de Acción Climática y Energía de la UE, Miguel Arias Cañete, el secretario de Medio Ambiente y Recursos Naturales de México, Rafael Pacchiano, y la activista Dolores Huerta.

También estarán la ministra de Ambiente de Perú, Fabiola Muñoz, el gobernador de Puerto Rico, Ricardo Rosselló, y el ministro de Ambiente y Energía de Costa Rica, Carlos Manuel Rodríguez.