By Lina Broydo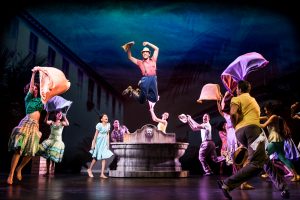 "On Your Feet" Salutes Hispanic Heritage Month 
September 11 through October 7, 2018 at the Golden Gate Theatre in San Francisco
October 9 through 14, 2018 at the Center for Performing Arts in San Jose
The famous team of Gloria and Emilio Estefan, the 26-time Grammy Award-winning music duo, are celebrating Hispanic Heritage Month in the Bay Area by presenting "On Your Feet" at the newly restored to its 1922 glory Golden Gate Theatre in San Francisco and at San Jose's Center for Performing Arts.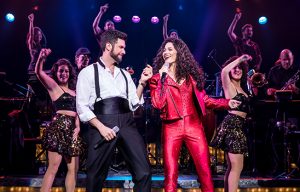 The award winning musical is based on Estefans lives and marriage. From their humble beginnings in Cuba, both came to America and broke through all the barriers to become crossover sensation at the very top of the pop music world.
From international super-stardom to life-threatening tragedy, "On Your Feet" will take the audience on the journey of the real story of this record-making extremely talented couple who, in the face of adversity, found a way to end up on their feet.
Directed by two-time Tony Award® winner Jerry Mitchell (Kinky Boots), with choreography by Olivier Award winner Sergio Trujillo (Jersey Boys) and an original book by Academy Award® winner Alexander Dinelaris (Birdman), "On Your Feet" features some of the most iconic songs of the past quarter-century — and one of the most inspiring stories in music history.
Mauricio Martinez as Emilio Estefan and Christie Prades as Gloria Estefan playing the leads. You are in for a real treat! Wear comfy shoes as you may be dancing in the isles and celebrate life with a salsa party and a conga line dance.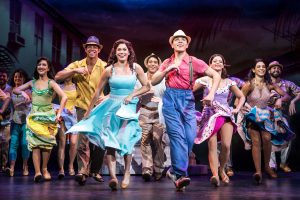 Tickets and Information
Prices in San Francisco: 
From $55 to $246
888-746-1799
Golden Gate Theatre
1 Taylor Street in San Francisco
Prices in San Jose 
From $43 to $153 in San Jose
800-982-2787
broadwaysanjose.com
Center for the Performing Arts
255 S. Almaden Blvd. in San Jose
Photos courtesy of
Mathew Murphy for "On Your Feet"
Mitchell Zachs for Invision
The White House: President Barack Obama awarded Gloria and Emilio Estefan with the Medal of Freedom on November 25, 2015
Mill Valley Film Festival

Founded in 1978 the Mill Valley Festival (
MVFF)
has established an impressive track record for launching new films and the careers of new filmmakers and is well known for the quality of its programming.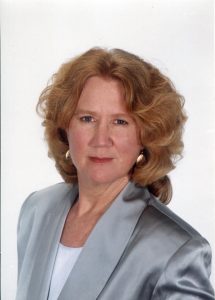 With a reputation for launching new films and creating awards season buzz, MVFF has earned a reputation as a "filmmakers' festival" by celebrating the best in American independent and world cinema alongside high profile and prestigious award contenders.
On the menu: Gala celebrations, parties, seminars and opportunities to mingle with filmmakers in a spectacular setting!
A new and exciting program has been added this year featuring an amazing singer-songwriter Holly Near who along with Tammy Hall and Jan Martinelli will perform in conjunction with documentaries "Holly Near: Singing for Our Lives," a portrait of Near and her 40-plus years of music and activism. If you are a movie fan (fanatic) as I am this year's  
MVFF
is definitely a perfect way for you to enrich your cultural life this October.
See you and the mega movie stars in Mill Valley!
Tickets and Information

Photo of Holly Near courtesy of 

MVFF
"Phantom of the Opera" in San Francisco
Now through September 30, 2018
Get mesmerized by Andrew lloyd Webber's tragic love story about a young and beautiful singer who becomes the obsession of a mysterious character wearing a white mask and who lives beneath the opera house.
"The Phantom of the Opera,"
the longest running show on Broadway, has settled at the new opera house at the architecturally stunning Orpheum Theater in San Francisco.
This new version of
Phantom
features
talented
lead stars Quentin Oliver Lee as Phantom and Eva Tavares as Christine, who perform 
magnificent
arias
composed by the brilliant Sir Andrew Lloyd Webber with lyrics by Charles Hart. I can guarantee the Music of the Night will haunt you for the rest of the week.
And who can forget 
the show's spectacular chandelier created for this production and weighing 3,000 pounds and assembled with 30,000 fire proof imitation crystals? Don't forget to visit the theatre's souvenir shop to purchase a white porcelain 
replica
 of the 
Phantom's mask as an ornament to decorate your Christmas tree while keeping memories alive of this incredible show.
No kids under 5 are allowed
1192 Market Street in San Francisco 
Photos courtesy of SHN and L.Broydo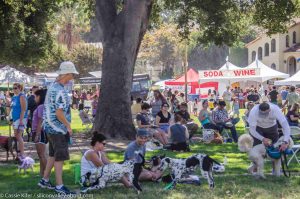 Bark in the Park Festival in San Jose
September 15, 10 a.m. to 5 p.m.
This is my favorite annual festival when your lovable pooches and their proud owners have fun in the sun.
Billed as the largest dog festival in the country, all the barking is going on throughout the William Street Park, a large neighborhood downtown park with family-friendly activities including food, beverages, contests, agility courses, children's activities and more than seventy five dog-related vendors and services.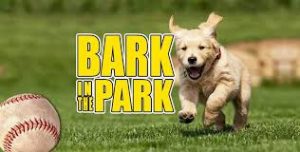 They even provide yoga for dogs! Proceeds from donations benefit the Humane Society Silicon Valley, San Jose Animal Care Center and other local charities. What began as a small event 22 years ago now attracts thousands of dog lovers and provides an opportunity for families and their four-legged friends to enjoy spending a day together while raising funds for charity.
Important: If your pooch needs vaccinations and micro-chipping, you can get both at reduced prices provided by Pet Awareness and Welfare Society for San Jose Animal Care Services.
To prevent dogs overheating visit the misting tent provided by San Jose Water. 
This is as good as it gets for all involved.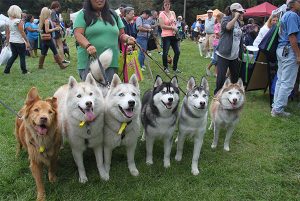 Tickets and Information
Admission is $5 for adults, f
ree for kids and dogs
Located at the corner of East William and South 16th Streets
Photos courtesy of Bark in the Park