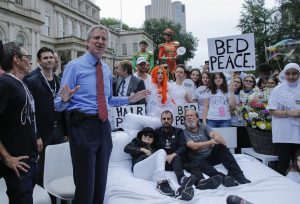 New York, Sep 13 (EFE).- Yoko Ono recreated Thursday in New York a "bed-in" like the one she and her late husband John Lennon had in 1969 to protest against the Vietnam War, although on this occasion she organized it with former Beatle Ringo Starr and actor Jeff Bridges.

The purpose of the event outside City Hall was to generate support for New York City public schools as part of "Come Together: NYC," marking the return to the Big Apple of the John Lennon Educational Tour Bus, a production studio on wheels.

Ono, 85, descended the bus amid great excitement and strong security measures, climbing onto the bed with impeccable white sheets, which was surrounded by dozens of youths singing Beatles songs.

The chanting began getting louder as the artist approached, but when Starr and Bridges arrived and climbed onto the bed with Ono, total commotion broke out.

The three celebrities posed while listening to "Imagine," the groundbreaking song that Lennon wrote in 1971 to call for peace.

"It's an incredible day for me to finally go to bed with Yoko," the 78-year-old Starr quipped, while recalling the atmosphere of "peace and love" in the 1960s and lauding the work of the Lennon Bus, a project launched by Ono 18 years after her husband's 1980 murder in New York.

Mayor Bill de Blasio walked out of City Hall to greet the three celebrities, and urged youths to help make peace a reality in the world and to not only imagine it.

The educational Lennon Bus will remain in New York for a month, visiting schools in all five boroughs.