August 16, 1995
by Yolanda Reynolds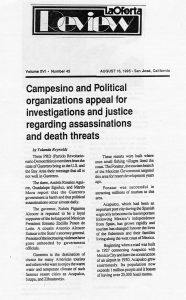 Three PRD (Partido Revolucionario Democrático) members from the state of Guerrero bring to the US. And the Bay Area their message that all is not well in Guerrero.
The three, Andr´ss Rosales Aguirre, Guadalupe Eguiluz, and Martin Mora report that the Guerrero government is harsh and that political assassinations occur almost daily.
The governor, Ruben Figueroa Alcocer is reported to be a loyal supporter of the beleaguered Mexican President Ernesto Zedillo Ponce de Leon. A cousin Antonio Alcocer Salazar is the State's attorney general. Protests of the increasing violence have gone unheeded by government officials.
Guerrero is the destination of choice for many American tourists and others who want to enjoy the warm water and temperate climate of such famous resort cities as Acapulco, Ixtapa, and Zihuatanejo.
These resorts were built where once small fishing villages lined the coast. The Fonatur, the tourism branch of the Mexican Government targeted this area for resort development years ago.
Fonatur was successful in attracting millions of tourists to this area.
Acapulco, which had been an important port city during the Spanish reign only to become far less important following Mexico's independence from Spain, has grown rapidly and tourism has changed forever the lives of the fishermen and their families living along the west coast of Mexico.
Beginning when a road was built in 1927 connecting Acapulco with Mexico City and later the construction of an airport in 1950, Acapulco grew enormously. Its population now exceeds 1 million people and it boasts of having over 25,000 hotel rooms.
Of these, 25 hotels are ranked as 4 star, eight are 5 star, three are' 'grand tourism'' and four are in a 'special category.' In 1992, these hotels had suites whose rates could be up to $350 per night. Obviously, other hotels offer rooms at more moderate prices. However, tourists who cling to the beaches will not see the grinding poverty and neglect of most of the town and villages in Guerrero.
The state of Guerrero, like the other southern states of Mexico, is almost totally covered by high mountain ranges that seem to stand in defiance of the pounding waves of the Pacific Ocean. The population of Guerrero is almost 70% mestizo and 30% are members of indigenous tribes. The major tribes are Mixtecos, Chiapanecos, Tlapanecos, Nahuatls and Amuzgos.
To all who will listen, today's message from Guerrero is one of great sorrow. Ln Guerrero, says Martin Mora, a Consejero Nacional (state representative to the Mexican national Congress), the government does not follow the rule of law and does not follow through on its promises except to assassinate critics.
Unemployment in Guerrero is 80%, fundamental community services are not provided and dissent is met with certain death. In recent months, the number of murders and attempted assassinations have accelerated.
Mora explains that high unemployment rate has caused many people to come from Guerrero to work in the fields of the Central Valley of California.
June 28, in Guerrero, 17 campesinos were killed when two trucks, carrying approximately 100 campesinos. were detained by the state judicial police.
About half of the campesinos were members of the Southern Sierra Campesino organization (OCSS) and had been pressing the governor to fulfill a campaign promise of providing much needed fertilizer and defoliant. They had planned a protest in the town of Atoyac de Alvarez when they were confronted by the police. Mexican officials say that this detention became a confrontation, "when a campesino attacked" the heavily armed police "with a machete," later a video tape was presented to indicate that a "campesino" had begun the gunfire that ended with the police shooting 100 people and killing 17 of them. No police were killed.
According to the campesinos, Mora says, the man who began the shooting near Atoyac was unknown to the campesinos and was allowed by the police to walk through their ranks and disappear into the darkness.
Earlier that month on June 10 two indigenous activists, Perfecto Gonzalez, Rufino and Alejandro Tenorio Perfecto were killed. On June 18, Rey Flores Hernandez was murdered. All three dead had been active in the Guerrero 500 years of Indigenous Resistance Council. Among other activities, this group asks that faxes be sent to Guerrero Governor Rubén Figueroa, in protest of conditions in that state.
Also in June, it was reported that a lawyer, University professor and PRD member Noberto Flores was murdered in his office in the state capital, Chilpancingo. On July 5, twelve members of a campesino family were murdered as they returned from work, late at night near the town of Juchitlan del Progreso.
According to the lone survivor, 14-year-old Hilario Garcia Jimenez, six armed men he identified as members of the state police asked for papers for the family's pickup truck. After the paper were produced, the gunmen made the lie down in a ditch and shot twelve of them including a two-year-old and an eight-year-old. Garcia said that he thought they were police because they were wearing shoes. Campesinos, he explained, wear huaraches.
On July 15, two campesino orgartizers, Ismael Mena Alvarez and Eugenio Aguirre Bahena, were gunned down. many thought this was at the hands of members of PRI – the ruling party in Mexico. Mena and Aguirre were members of OCSS.
Following these assassinations, the PRD, the major center-left opposition party, registered a complaint with the Inter-American Human Rights Commission of the Organization of American States.
Another incident took the lives of five police officers which La Jornada (a major Mexico City newspaper) reports, appeared to stem from a dispute between a Coalac cacique Sánchez Meza and Merced Salgado Nájera, the Mayor of the town of Huamuxtitlán, near Cualac.
Joining with Martin Mora to appeal for help and to inform the larger American community of the dire conditions in Guerrero were Guadalupe Eguiluz, a local elected official (Congresista Local), and Andres Rosales Aguirre President of the PRD in Cotzamala Guerrero.
Mora says that the Governor of Guerrero has established as system that suppresses the people. He explained that, during the day the police act as police, only to become after hours "bandidos." The police rob and kill people late a tnight as people are returning home after long hours of work. Often, police use the excuse that one '"is a drug dealer" to confiscate goods or transportation from the campesinos.
He adds that the economic situation in Guerrero is bad, as it is in all of Mexico, but, in Guerrero, it is even more grave because of the complete lack of justice. Mora says that Guerrero is the poorest state in Mexico – even worse off than Chiapas. Guerrero, he says, has the highest rate (over 40%) of mortality for children in the nation.
Mora explained that the high death rate is due to starvation, inadequate health care, contaminated water and a growing incidence of cholera.
Andrés Rosales Aguirre now using crutches and a metal leg brace, explained that his condition was due to an attempt on his life at the front steps of his home. He was shot three times-once in the leg and once in his shoulder. He said his life was saved because of the defensive action he took that placed him out of sight of the assassins.
Rosales is 34 years old and has three young children. That evening, the two youngest had been hanging around his shoulders as he sat down to play with them at the door step and had left his side just moments before the assassins appeared. The children could have been killed or at least injured.
Rosales has publicly challenged Figueroa's (the Guerrero Governor) logic. It was then in early January that Figueroa first threatened Rosales.
This dispute, Rosales explains, began when discussions revealed that Figueroa was claiming to the federal government to have spent $400 million pesos for government works. These works were never even begun. It was then, Rosales explained, that the community became aware that a major fraud had occurred at the hands of the Governor.
This Governor has completed only two years of his four-year-term. In that time, over 100 people have died at the hands of assassins.
The disturbing reality, explains Mora, is that the weapons that are being used are of the type issued by the government to the military or the police and are not available to the general public, especially people as poor as the average campesino in Guerrero.
Another disturbing aspect, explains Diputada Eguilaz, is that these incidents of violence seem to be staged with the government producing video tapes, prior of medical and emergency personnel and producing video tapes, prior mobilization of medical and emergency personnel and producing "witnesses" which corroborate the official accounts of these deadly incidents.
There is evidence that there exists a hit list of individuals for assassination. A short list of persons high on the death list includes Andrés Rosales, who is recovering front the recent (March 21) attempt on his life. Two are already dead, they are Selestino Hernández and Eustorgi Baza. Others who have been told that they have been targeted are Claudio Hernández, Esteban Mireles, Alfonsina Romero, Martín Mora and Guadalupe Eguiluz.
Rosales says, "all that we ask is that promises be kept-that the vote of the people be respected, but for these expectations they have been targeted for assassination."
"When we object to fraudulent elections and the lack of respect for the rule of law, their (the government) response," he says, "is bullets."
For example, in 1993, he says that the PRD won the Mayor's election in Cuxamala but Figueroa would not accept the results what we have done is to boycott the paying of municipal fees. "The boycott has lasted over one year so now in desperation, he has resorted to killing us," says Rosales.
According to news reports, "Figueroa blames the violence on the states tradition of guerilla movement and especially on the 400 member OCSS which, he says, is inspired by the rebel Zapatista National Liberation Army in Chiapas."
Figueroa's father was a governor of Guerrero and is remembered for his harsh repression of the 1974 rebels known as the Partido de Los Pobres and their leader Lucio Cabanas. According to people in Guerrero, government critics were killed and their bodies disappeared into a natural crevice in the mountains of Guererro a location that was the favorite resting place for Figueroa Sr.'s critics.
After the June 28 massacre, it was reported that the popular La Jornada cartoonist, El Fisgón, showed Figueroa Jr. sitting by his father's tomb and saying "you must be proud of me."
Mora, Eguiluz and Rosales ask that letters and faxes be sent to Mexico's President, Ernesto Zedillo, with copies to U. S. President Bill Clinton to protest the conditions in Guerrero and to request a full and honest investigation of the killings.
Write President Ernesto Zedillo Ponce de Leon at Presidente Constitucional de los Estados Unidos Mexicanos, Palacio Nacional, Patio de Honor 2nd Piso, Mexico 06067, DF Mexico.
Write President Bill Clinton at White House 1600 Pennsylvania Ave, Washington DC. 20500. There is no listing for a fax. © La Oferta Newspaper.