Mexico City, Sep 14 (EFE).- "Roma," directed by Alfonso Cuaron, will represent Mexico in the upcoming Oscars and Spain's Goya awards, the Mexican Academy of Film Arts and Sciences (AMACC) said Friday.

The latest from Cuaron, who won a best director Oscar for "Gravity," will compete at the Oscars in the category of best non-English language film and vie for the best Ibero-American movie honors at the Goyas, AMACC president Ernesto Contreras said.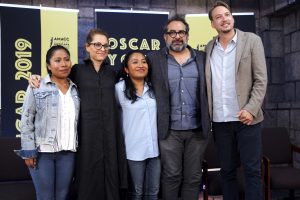 "Roma" is a black-and-white film based on Cuaron's childhood memories chronicling the story of Cleo, an indigenous housekeeper working for an affluent family in Mexico City in the early 1970s.

The film, starring novice actress Yalitza Aparicio, marks Cuaron's return to Mexico, as he had not worked in his native country since directing the 2001 drama "Y tu mama tambien."

"I am proud of having been part of this film and depicting what Mexico is like," Aparicio said during an event at the AMACC headquarters, where the announcement was made.

"Roma" was presented last week at the 75th Venice International Film Festival, where it received a standing ovation and was awarded the Golden Lion by a jury headed by his fellow countryman Guillermo del Toro.

No Mexican motion picture has yet won the Oscar for best non-English language film.

"Rome" competed against more than 10 other films to represent Mexico at the Oscars and the Goyas.