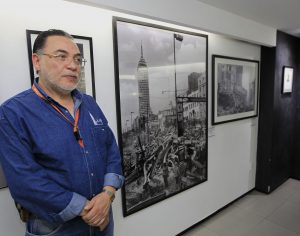 Mexico City, Sep 17 (EFE).- Torre Latinoamericana, the skyscraper that ushered in the modern Mexico City skyline and has become a symbol of survival in the face of the most powerful of earthquakes, has a simple plaque from 1957 in the lobby attesting to its status as "the tallest building ever exposed to seismic forces."

When a powerful magnitude-7.1 earthquake hit Mexico City on Sept. 19, 2017, engineer Victor Hugo Ariceaga, who is in charge of the iconic skyscraper's maintenance, told EFE he stayed calm.

Ariceaga said he knew he was in one of the safest structures in the Mexican capital.

During its 62-year history, the building, known among Mexico City residents as "La Latino," has survived the powerful earthquakes of 1957, 1985 and 2017.

Last year, 471 people were killed by the earthquakes that rocked Mexico on Sept. 7, Sept. 19 and Sept. 23, marking the worst natural disaster in the country in more than 30 years.

The Sept. 19 temblor occurred on the 32nd anniversary of the magnitude-8.1 earthquake that hit Mexico City, killing some 10,000 people, injuring more than 40,000 others and leaving 80,000 people homeless.

The temblors broke a few windows in the 181-meter (593-foot) tower, which once held the record of being the tallest skyscraper outside the United States.

"It's not the best area to build, but, in any case, the skyscraper was constructed here," Ariceaga told EFE on the observation deck of the iconic tower, where around 3,000 people work on its nearly 40 floors filled with offices.

Mexico City's historic downtown district, where Latinoamericana Seguros constructed the tower in 1956, was built over Lake Texcoco, an ancient lake, and the soil is made up of unstable clay.

If there was an earthquake strong enough to topple La Latino, no other building would be left standing in Mexico City, Ariceaga said.

"From its design, developers knew they were in a high seismic activity zone," Ariceaga said.

Mexican architects used a revolutionary system that was more expensive but provided more stability than the building standard at the time.

And the Torre Latinoamericana is still standing.