Washington, Sep 18 (EFE).- President Donald Trump said Tuesday that he is "very seriously" considering the idea of establishing a permanent military base in Poland, adding upon welcoming Polish President Andrzej Duda to the White House that Warsaw would be ready to pay "more than $2 billion" to ensure that a US troop contingent was stationed at the base.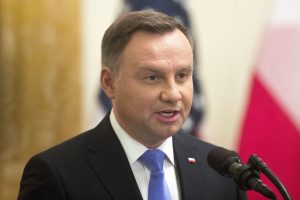 "He would pay the United States, meaning Poland would be paying billions of dollars for a base," Trump said at the White House. "We're looking at that more and more from the standpoint of defending really wealthy countries."

"President (Duda) offered us much more than $2 billion," the US leader added, going on to say that "The security of Poland is very important to me, and it's very important to our country."

The Polish leader confirmed later that he had asked Trump for the US troop deployment in Poland with an eye toward counteracting "Russian militarization" in the region.

"I invite you to post more American military troops in Poland," Duda said at a joint press conference with Trump, adding that a US military presence in his country would be a "guarantor of security."

The Polish leader also suggested building a permanent US base in Poland and said he would name it "Fort Trump."
When asked about the matter, Trump said that he was analyzing the possibility because he believed that Russia has acted aggressively and Moscow respects force and strength.

Poland is pursuing an ambitious project to renovate its armed forces and its Parliament in 2017 approved increasing the country's military budget from 2 percent to 2.5 percent of its gross domestic product by 2030.

Of that percentage, about 20 percent would be allocated to the acquisition of new arms, basically of US make, such as the Patriot surface-to-air missiles purchased last March for more than $4.7 billion.