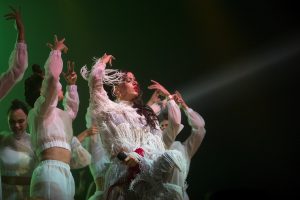 Los Angeles, Sep 20 (EFE).- The Latin Recording Academy announced Thursday that J Balvin leads the Latin Grammys nominations, with a total of eight nods.

Spanish singer Rosalia received five nominations, while El David Aguilar, Jorge Drexler, Kany Garcia, Natalia Lafourcade and producers Mauricio Rengifo and Andres Torres each obtained four nominations.

Pablo Alboran's "Prometo;" J Balvin's "Vibras;" Chico Buarque's "Caravanas;" Jorge Drexler's "Salvavidas de hielo;" El David Aguilar's "El siguiente;" and "Soy yo," by Kany Garcia, will vie for Album of the Year, the Latin Grammy's main award.

Natalia Lafourcade's "Musas;" Luis Miguel's "Mexico por siempre;" Monsieur Perine's "Encanto tropical;" and "Cuando el rio suena," by Rozalen, will also compete for the main prize.

The nominees for Song of the Year are Mon Laferte, for "Antes de ti;" Monsieur Periné, for "Bailar contigo;" Natalia Lafourcade and Los Macorinos, for "Danza de gardenias;" El David Aguilar, for "Embrujo;" Rozalen, for "La puerta violeta;" and Rosalia, for "Malamente."

The other songs that were nominated are "Para siempre," by Kany Garcia; "Robarte un beso," by Carlos Vives and Sebastian Yatra; "Telefonia," by Jorge Drexler; and "Tu vida mi vida," by Fito Paez.

The nominees for Record of the Year are Pablo Alboran, for "No vaya a ser;" Anaadi, for "E Fake (Homem Barato);" J Balvin and Willy William, for "Mi gente;" Bomba Estereo, for "Internacionales;" Jorge Drexler, for "Telefonía;" and Kany Garcia, for "Para siempre."

The other recordings that were nominated are "X," by Nicky Jam and J Balvin; "Danza de gardenias," by Natalia Lafourcade and Los Macorinos; "Bailar contigo," by Monsieur Periné; and Rosalia's "Malamente."