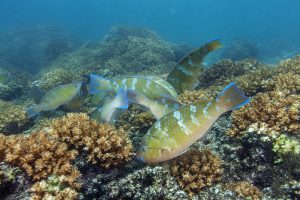 La Paz, Mexico, Sep 20 (EFE).- From the turquoise-colored bay of La Paz, near the southern tip of Baja California, one can discern part of Isla Espiritu Santo, an uninhabited island that looks like a giant flame from the air.

The island is home to thousands of species of plants and animals, as well as to many legends.

To reach the island, one must board a boat called a panga, on which guide Nezahualpilli Tovar, a marine biologist, narrated to EFE several of those legends from when indigenous people still inhabited Espiritu Santo.

Three areas are especially attractive for visitors, starting with Punta Lobos, "the deepest part of the island."

Next is the sea lion breeding ground, the island's "crown jewel," which is famous for being the first place in Latin America where pearl hunting began to be carried out.

Of the 19 breeding grounds on Mexico's Pacific coast, Isla Espiritu Santo's represents the one where tourists can come closest to the sea lions, which "encourages conservation," Tovar said.

"There are around 550 sea lions here. It is a very important breeding ground in the Gulf of California. It has the highest number of births per year in the gulf, and the pups are strong and well fed," the director of the Espiritu Santo Archipelago Natural Protected Area, Irma Gonzalez, told EFE.

There are also many signs of past human presence on the island, including an archeological site known as "calaveritas" ("little skulls"), where researchers from Mexico's National Institute of Anthropology and History found the remains of ancient indigenous people.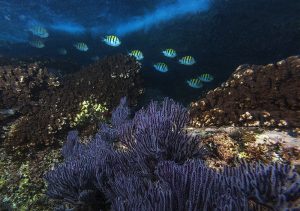 According to Tovar, most of the skulls that were found belonged to children, explaining the name of the site.
Other objects such as "shells, animal teeth and feathers" were also found, reflecting the death cult that the local indigenous people practiced.

Isla Espiritu Santo, however, is especially known for what surrounds it, namely the rich waters of the Gulf of California, which Jacques Cousteau once famously referred to as "the world's aquarium."

Divers are dazzled by the large number of species that can be observed, including corals, blowfish, starfish, manta rays, hawksbill sea turtles, and parrotfish, to name a few.

According to Tovar, the great biodiversity in the area is due to the fact that "we are in a transition zone between the tropical and the temperate."

Gonzalez explained that, since the island became a Natural Protected Area 10 years ago, several monitoring programs for native species have been put in place and the ecosystem's health has improved.

"The results are admirable. The park is 10 years old and we have already seen a significant increase in the size and biomass of fish," she said.