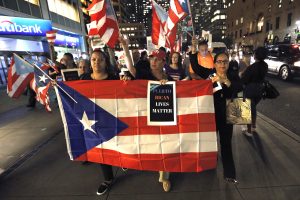 New York, Sep 21 (EFE).- Local community groups and survivors of hurricane Maria gathered for an interfaith, bilingual service at St. Bartholomew's Church on Park Avenue in New York Thursday and later marched on Trump Tower to mark one year since the storm's landfall in Puerto Rico where it killed and displaced thousands and caused an estimated $90 billion worth of damage.

A candlelit vigil was also held in memory of the over 3000 victims of the hurricane, reported an efe-epa journalist on the ground.

Families of victims and survivors also spoke of their experiences during and after the storm.

The event was part of a nationwide week of action between Sep. 18 and 22 to push the administration led by President Donald Trump to rebuild the island in a fair manner.

"Our national coalition has worked for almost a year demanding that the Trump Administration take responsibility for its failure to prepare for and adequately respond to Hurricane Maria's devastation in Puerto Rico," Melissa Mark-Viverito, campaign director for Power 4 Puerto Rico, the organizers of the protest, and Vice President for Strategic Engagement for the Latino Victory Project, said in a statement on Sep. 17.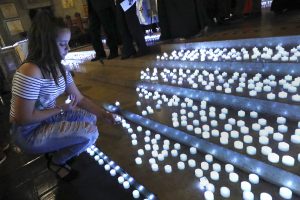 On Sep. 20, 2017, Hurricane Maria battered Puerto Rico and left most of the island without food and electricity. Many people were without clean water for months.

It also led to the deaths of an estimated 3,000 people, according to an extensive report released by George Washington University in August.

An earlier study in May by Harvard University said the death toll could be even greater, perhaps as high as 5,000 people.

Trump maintained his administration did "an unappreciated great job", despite it being an "inaccessible island with very poor electricity and a totally incompetent Mayor of San Juan", in a tweet on Sep. 12.

He followed it up with a tweet on Sep. 13 saying that the death toll in Puerto Rico was nowhere as high as 3,000.

"3000 people did not die in the two hurricanes that hit Puerto Rico. When I left the Island, AFTER the storm had hit, they had anywhere from 6 to 18 deaths. As time went by it did not go up by much," he tweeted, sparking a backlash in the country.