Mexico City, Sep 21 (EFE).- A rice dish that is traditional in the Spanish region of Castile and Leon was presented Friday in Mexico by Tapatour, a project of the Spanish Chamber of Commerce promoting that country's gastronomy to encourage Mexicans to dine on Spanish products.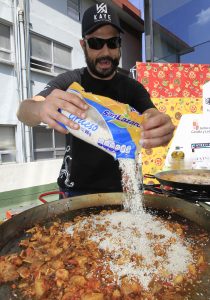 After a week of wine tasting, cheese sampling and workshops on ham butchering and how to make and shake cocktails, the third edition of Tapatour wrapped up Friday in Mexico City with a class on cooking rice in a paella pan and accompanying it with an aperitif of ham, olives and wine.
"The objective is to promote Spanish gastronomy in Mexico along with its Mexican counterpart at the importing restaurants that already exist in Mexico," Joana Torrrents, director of the Spanish Chamber of Commerce in this Latin American country, told EFE.

The rice class was taught by Chef Pedro Martin, a native of the Canary Islands associated with several restaurants that specialize in serving Spanish food in Mexico.

Those attending the closure of the Tapatour were treated to a dish of "socarrat" rice – a delectable dish created by cooking the grain in a paella pan with cow ears, butter, tomato, saffron, bell peppers and parsley.

The dish was cooked with two kinds of rice, one from Calasparra, traditional in Murcia, and another somewhat thicker grain that is used in Mexico, so that "people see the difference," the chef told EFE.

By means of Tapatour, Spanish authorities help "integrate" Spanish restauranteurs into Mexico and make Spanish products more familiar to Mexican consumers, Torrents said.

For the first time, Tapatour has focused on the gastronomy of a specific Spanish region, Castile and Leon, and all the recipes and ingredients were inspired by products from that area.