By Lina Broydo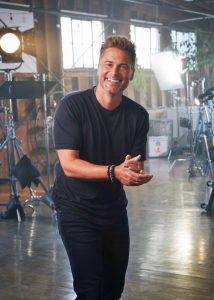 Famous Actor Rob Lowe Tells his Tales of Hollywood
October 6 at 8 p.m.
Inspired by the success of his two New York Times best-selling memoirs, Stories I Only Tell My Friends and Love Life, the popular actor Rob Lowe has created an all-new peek behind the curtain at Hollywood, fame, fatherhood, marriage, and a life lived at the forefront of culture for four decades.
From the Brat Pack to The West Wing to Parks and Recreation and beyond, this one man show is packed with witty, fun and one-of-a-kind insights spanning an iconic career of an actor everyone loves and admires.
"Frankly I love meeting people, being out in front of them, hearing their comments. Its really fun," say Lowe. With this in mind we definitely want to make Rob's life on stage fun: The VIP "Meet and Greet" package is $195 and includes a front orchestra seat, a signed copy of his book "Stories I Only Tell My Friends: An Autobiography" and a professional photo with Rob Lowe.
Well, this is probably the closest you will ever get to the real Hollywood star.

Tickets and Information
Prices range from $38 to $88
1-800-982-2787
broadwaysanjose.com
Center for Performing Arts
255 Almaden Boulivard in San Jose
Photo Courtesy of Broadway San Jose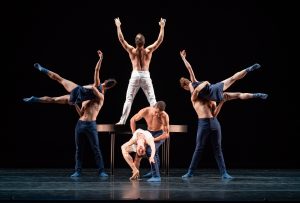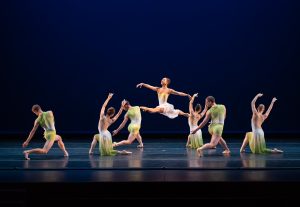 "Dance Series 01" – Smuin Contemporary Ballet
Now through October 6, 2018
Smuin launches its magnificent 25th anniversary season with Dance Series 01, a stunning program that expands the boundaries of contemporary ballet, pays tribute to Smuin's Ballet Company founder Michael Smuin, and celebrates the company's quarter century mark.
Acclaimed dancemaker Trey McIntyre returns to Smuin with Blue Until June, a mesmerizing and thrilling tribute to the fabulous Etta James.
Continuing Smuin's long-time dedication to fostering new talent within the company is a trio of groundbreaking works first developed in Smuin's Choreography Showcase: Merely Players by Smuin dancer Nicole Haskins, Echo (formerly titled Reflection) by Smuin dancer Ben Needham-Wood, and Sinfonietta by former Smuin dancer Rex Wheeler.
Dance Series 01 will also include two works by founder Michael Smuin: Schubert Scherzo, an effervescent dance set to Schubert's sprightly C-Major Symphony, and Eternal Idol, a romantic pas de deux inspired by Auguste Rodin sculptures. This is a true showcase of the exciting duet of classic and contemporary ballets at its best. Come early to enjoy a stroll around the beautiful setting of the Palace of Fine Arts, a shining historic jewel of San Francisco.
Tickets and Information

Single tickets $25-$81
Discounts are available for students and groups of 10 or more
415-214-8198
smuinballet.org
Palace of Fine Arts
415-912-1899
3301 Lyon Street (at Bay Street) in San Francisco
Photos courtesy of Smuin Contemporary Ballet
Russian Tea and Fragrance Festival
October 6 & 7, 10 a.m. to 5 p.m.
Enjoy a celebration of music, mystique, fragrances and roses, the Russian style, at the colorful setting of the Russian River Rose Company located in the picturesque town of Healdsburg.
This is the last open garden party of the year before the cool weather approaches the hills of Sonoma Wine County.
Sip a cup of aromatic tea prepared in the antique Russian Samovars as you wander among the gorgeous autumn rose fragrant garden with fluttering butterflies to the live music by Joella Olson, the Gypsy Violinist and as you listen to Gradina, the Slavic Singing and Dancing group. Don't miss the debut and sampling of the "Rose Embrace" – the newest estate produced Rose Oil Perfume, Rose Water, Rose Oil Mist and Rose Sorbet.
(Have you thought about the perfect Christmas gifts yet?) Stop by the mystical tea leaf reading to learn about all the wonderful plans the nature has in stock for you this fall.  Ahh, this is an unforgettable visit you will adore and cherish for a long time.
Tickets and Information
$5 donation includes tea and entertainment
707-433-7455
russian-river-rose.com
1685 Magnolia Drive
Healdsburg in Sonoma Wine County
Photos courtesy of Mikala Kennan
Mozart Magnified at Stanford Live
October 3, at 7:30 p.m.
Don't miss one of the Bay Area's treasures, the Philharmonia Baroque Orchestra as it plays classical compositions on period instruments at the architecturally impressive Bing Concert Hall located on the Stanford University's Campus.
Presented by Stanford Live the evening's repertoire includes works by Mozart alongside the Philharmonia Chorale: Mozart: "Litaniae Lauretanae"
; Mozart: Exsultate, jubilate"
; Mass No. 15 in C major, "Coronation Mass."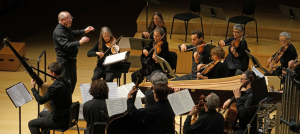 The magnificent sounds of the Mozart's era instruments make you believe you are listening to the sounds of music in Salzburg, Austria, Mozart's birth place. Stanford Live presents a wide range of the finest performances throughout the year and the Bing Concert Hall, which opened in 2013, attracts and hosts many renowned artists from around the world.
Make it a lovely early afternoon by visiting the university's Cantor Museum, The Anderson Art Collection, dine on the beautiful patio of the Cantor Cafe and stroll along the green pastures on the way to the Bing Concert Hall.
You may pre-order dinner or a glass of wine at the Bing Hall prior to the concert.  Free parking after 4 p.m.
Tickets and Information
Price ranges from $32 to $120
650-724-2464
live.stanford.edu
Bing Concert Hall
327 Lasuen Street
Stanford University
Photo courtesy of Stanford Live