United Nations, Sep 26 (EFE).- President Donald Trump said Wednesday he is open to meeting with his Venezuelan counterpart, Nicolas Maduro, at the United Nations.

"If he (Maduro) is here and he wants to meet – it was not on my mind, it was not on my plate, but if I can help people, that's what I'm here for," Trump told reporters upon his arrival Wednesday at the UN.

Nevertheless, the US leader said that all US options are on the table – even the "strong ones," an obvious reference to military action – to help end the Venezuelan socio-economic and political crisis.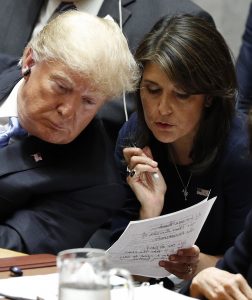 "I just want to see Venezuela straightened out. I want the people to be safe. We're going to take care of Venezuela," Trump said, adding that Venezuela's current situation is a "disgrace."

Maduro is scheduled to deliver a speech before the General Assembly on Wednesday, but the Venezuelan government still has not officially confirmed whether the president will travel to the UN headquarters in New York.

Last week, Maduro had said he was assessing the "security" conditions with an eye toward attending the annual General Assembly meeting because – he claimed – he has been the target of assassins.

"We have many Venezuelans living in the United States, many of them live in … Miami. These are great, great people," said Trump, adding that "The people are suffering tremendously in Venezuela and there's no reason for this. I'm willing to meet with anybody. Anytime I can save lives and help people, (even) if it's one life."

The US president on Tuesday said that the Maduro government had ruined Venezuela, adding that "We are announcing additional sanctions against the repressive regime, targeting Maduro's inner circle and close advisors."

Trump also told reporters that "It's a regime that frankly could be toppled very quickly by the military, if the military decides to do that."

Venezuela did not delay in responding to that comment, with Foreign Minister Jorge Arreaza denouncing Trump's words and warning that if a military "intervention" is mounted against the Maduro government, the country will defend itself.