Santiago, Oct 6 (EFE).- A group of Chilean artists have created and donated 56 paintings and sculptures with the aim of raising money for the Santiago-based Foundation for Trust, which currently attends to around 500 victims of child sexual abuse.

Around 15 percent of these works of art – exhibited at Santiago's Cultural Institute of Providencia through Saturday – have been purchased since this initiative was launched just over a week ago.

Each work was created by a different Chilean artist, among them Enrique Campuzano, Eduardo Martinez Bonati, Carmen Aldunate, Hugo Marin, David Corvalan, Alfredo Echazarreta, Teresa Ortuzar and Gonzalo Cienfuegos.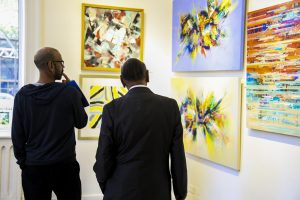 The artists invited to take part in the initiative had three months to prepare the works before the exhibition opened on Sept. 27.

The works range from multi-colored to monochromatic and abstract to realist, but all are aimed at bringing visibility to child sexual abuse.

After Saturday, the works will be taken to the Foundation for Trust, although the window for acquiring them under this initiative will be open for one more month.

The paintings and sculptures range in price from 350,000 pesos (just over $500) to 4 million pesos.

The artists keep 30 percent of the total price tag for themselves, while the remaining 70 percent of the proceeds go to the foundation.

The foundation's projects director, Valentina Correa, told EFE that many victims had come forward amid a recent sharp uptick in cases linked to the Chilean Catholic Church sex abuse scandal, which prosecutors are currently investigating.

"That's caused a deficit, so we have to do these and other types of activities to sustain our operation and the foundation," she said.