Lima, Oct 9 (EFE).- Peruvian President Martin Vizcarra said that he will work jointly with Lima's mayor-elect, centrist Jorge Muñoz, toward the development of the Peruvian capital.

Vizcarra on Monday welcomed Muñoz in the seat of government, where the two officials were joined by Prime Minister Cesar Villanueva, as well as transport, communications, housing and culture ministers.

The president said that he and the newly-appointed mayor will be holding a string of meetings over the next few months leading up to January 1, when Muñoz is set to take office.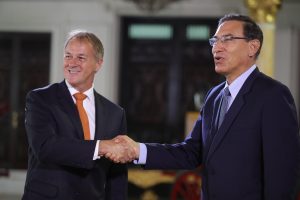 Muñoz said that the meeting was "cordial and positive," adding that he and the president spoke about the 2019 Pan American Games – set to take place in Lima – and the plans to celebrate the bicentennial of the country's independence in 2021, as well as the new thoroughfares to be built around the city.

"We want to work jointly toward building Lima into the city we all want," Muñoz told reporters. "(We want) it to be a more friendly city."

A member of the country's centrist Accion Popular party, Jorge Muñoz took 36.1 percent of the votes in Sunday's election.

According to the latest figures provided by the country's electoral authority, former Minister of the Interior Daniel Urresti came in second with 19.6 percent of the votes, while former congressman Renzo Reggiardo, representing the Peru Patria
Segura party, took third, with 8.8 percent of the ballots cast.

More than 23 million Peruvians cast their vote on Sunday to elect almost 13,000 regional and municipal authorities, including 25 regional governors, 196 provincial mayors and 1,874 district mayors.